National Advisory Board
The Rogel Cancer Center's National Advisory Board is dedicated to raising national awareness, promoting the cancer center within business and social networks, being knowledgeable about research and patient care, and elevating philanthropic giving.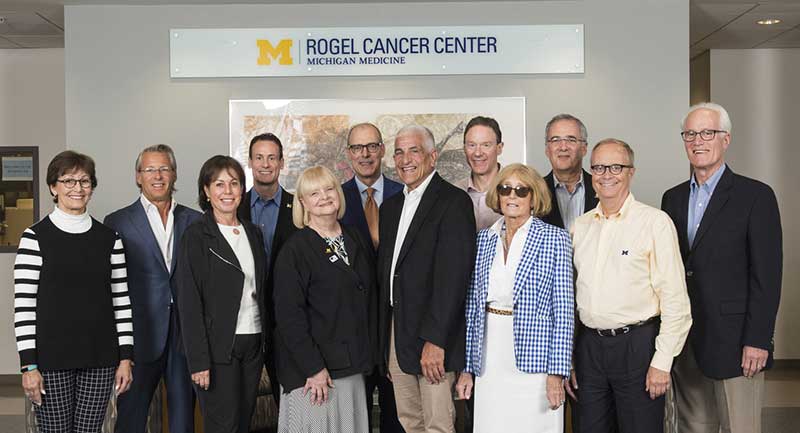 Members of the Rogel Cancer Center's National Advisory Board (from left): Andrea Wolfe; Nathan Forbes; Elizabeth Schubiner; Rich Nelson; Carolyn Bruzdzinski, Ph.D.; Eric Fearon, M.D., Ph.D., Rogel Cancer Center director; Richard Rogel, chairman; Tom McConnell; Susan Brown; Stephen Papadopoulos, M.D.; David Kribs; Kenneth E. Warner, Ph.D.

Not pictured: Marci Carris; Polly Cheung, M.D., Choon-Peng Ng; Thomas Collet, Ph.D. and Donna Weiss.
National Advisory Board members meet twice a year in Ann Arbor and come together from Michigan, Arizona, California, Colorado, Illinois, Massachusetts, New York and China.
Through leadership, counsel, and action, the National Advisory Board supports the Rogel Cancer Center's commitment to bettering the health and well-being of all people who have -- or are at risk of getting -- cancer:
Through research in prevention and early detection
By developing new and better treatments
By training the next generation of cancer researchers, physicians, and health care providers
Meet the National Advisory Board Members: