Education and Training
Fellows, postdocs and trainees are critical to the success of the Rogel Cancer Center's research programs.

Our trainees include undergraduate, graduate, and medical students as well as post-doctoral and clinical fellows. They work with the faculty who are Core Members of the Rogel Cancer Center, spanning the areas of basic science, clinical research, and population studies.
Postdocs, grants, and other opportunities with upcoming deadlines
Below are fellowship and grant opportunities at both the University of Michigan and cancer centers across the country. If you're a postdoctoral fellow, house officer, graduate, or undergraduate student who works with a Rogel Cancer Center faculty mentor, make sure you are registered for trainee membership to be the first to learn of these opportunities.
Postdoc Preview Applications due July 1, 2022
Postdoc Preview (Sept. 15–17, 2022) is a three-day competitive program that provides selected applicants the opportunity to visit Van Andel Institute (VAI) to learn about postdoc training opportunities, meet one-on-one with internationally recognized faculty, and explore our extensive scientific resources.
VAI will provide transportation, lodging, and meals for selected applicants. We also are pleased to offer family care grants for those caring for children or other family members.
Eligibility: Applicants must be current graduate students at U.S. institutions who anticipate beginning a postdoc by January, 2024. Individuals who identify as members of underrepresented racial and ethnic groups are strongly encouraged to apply. Preference will be given to U.S. citizens and permanent residents.
Applications are due at 11:59 p.m. ET on July 1, 2022.
Opportunities with Rolling Deadlines
Rogel Cancer Center News: Mentor and Trainee Spotlight
Corey Speers, M.D., Ph.D. and Kassidy Jungle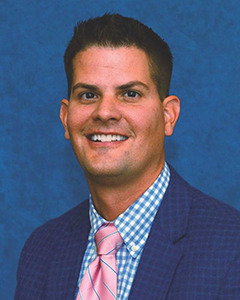 Corey Speers, M.D., Ph.D., Associate Professor and Associate Residency Program Director, Department of Radiation Oncology
Dr. Speers has been at the University of Michigan for 10 years.
What do you like most about being a mentor at the Rogel Cancer Center?
I love the opportunity to interact and work with individuals from such diverse backgrounds. Each person brings their own unique strengths and talents, and this diversity strengthens our research and our interactions. The University of Michigan and Rogel Cancer Center provide such a richly collaborative environment that I get to interact with, be mentored by, and provide mentorship to individuals I wouldn't normally be able to interact were I to be at a different institution. This richness of diversity expands my understanding and knowledge academically, professionally, and most importantly personally.
How do you balance your career and family/personal life?
Finding an appropriate work/life balance can be a real challenge, but I think identifying the activities and experiences that bring you real joy, and then making time for those activities is super important. There are always more things that need to be done than there is time for in a day. Creating time and space for the activities that are "centering" and bring joy and peace can help you find the balance. I schedule these activities into my calendar, so I make sure I have time and space to do them.
If you could only drink one beverage for the rest of your life, what would it be?
As my lab members know, Diet Mt. Dew is my jam!
Before working at U-M, what was the most unusual or interesting job you've ever had?
I was a ranch hand on a cattle ranch in the summers as a teenager and early twenties. Loved the wide-open spaces, limitless skies, and being on a horse.
What is the first concert you attended?
In 1992 snuck into a super sketchy warehouse basement in Houston to hear an "up and coming" band called Nirvana. They played in front of about 200 people in this warehouse, with an opening act playing that was playing for the first time together—that band ended up being Smashing Pumpkins.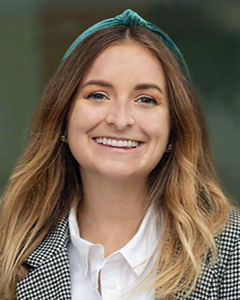 Kassidy Jungles, Graduate student research assistant at the University of Michigan, PhD student in the Department of Pharmacology
Kassidy has been at the University of Michigan for 2 years.
What do you like most about being a trainee at the Rogel Cancer Center?
The people at Rogel are incredibly supportive and friendly. Since starting here, I feel as though everyone I have interacted with has been so helpful and understanding. I also love the collaborative atmosphere and being able to work on projects between different research teams.
How do you balance your career and family/personal life?
While my schedule is busy as a graduate student, I always try to make a conscious effort to plan time into my schedule to interact with family and friends. Whether it's scheduling a Zoom call with a friend from college or spending a weekend with my family, I try to always devote some time to myself as a healthy break from graduate school.
Before working at U-M, what was the most unusual or interesting job you've ever had?
In college, I worked for the University of Notre Dame Football Program as a recruiting ambassador. On the weekends, I gave campus tours to prospective student athletes and promoted the University of Notre Dame through recruiting events and football games. It was a really cool experience and I would sometimes meet celebrities on the sidelines.
What is your favorite movie and book?
Favorite Movie: 13 Going on 30
Favorite Book: To Kill a Mockingbird
What did you want to be when growing up?
Either a surgeon or a fashion designer.
What is your favorite sport?
Beach volleyball. When I was younger, I used to compete in tournaments in Chicago!
Where would you like to travel to?
London, England.
Are you a registered trainee at the Rogel Cancer Center?
All Registered Rogel Cancer Center trainees (undergrads, graduate students, medical students, Ph.D. students, and fellows) receive priority access to our scholarships, funding, and training opportunities.Register today!.
Are you a student, trainee, or mentor?
Sign up for our NextGen emails for trainees and mentors to stay up to date on opportunities and resources.
Get more information about educational opportunities.