About Us
The University of Michigan Rogel Cancer Center has earned the National Cancer Institute's "Comprehensive" designation

Today, 4 in 10 people will be diagnosed with cancer in their lifetime. Facing cancer oneself, or supporting a loved one with cancer, is a life-altering experience that underscores just how precious life is.
The University of Michigan Rogel Cancer Center is committed to bettering the health and well-being of people who have -- or are at risk of getting -- cancer:
Through research in prevention and early detection
By developing new and better treatments
By training the next generation of cancer researchers, physicians and health care providers
Our patient care is multidisciplinary, which means treatment plans are developed with input from many experts: pathologists, radiologists, surgeons, medical oncologists, radiation oncologists. These team members share their experiences and knowledge of specific cancer to provide the very best options. Due to our extensive research programs, the majority of our patients have access to new forms of treatment, many developed here as a result of clinical trials.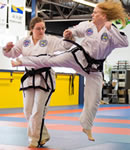 Meet Barbara Hilija Spiessl. She overcame a rare cancer and continues to stays strong against late effects
Our Leukemia Cancer Program diagnosed Spiessl's rare cancer: subcutaneous panniculitislike T-cell lymphoma. After undergoing chemotherapy with limited success the next step was bone marrow transplant, which was successfully provided by a donor from the national registry.
Now cancer-free, Spiessl still faces some late effects -- the long-term side effects often experienced by cancer survivors after they've gone through extensive treatment. Our center and leukemia program continue to support Spiessl -- as do her friends and family.
Read all of her story: Defending with Discipline.
The Conquest of Cancer Through Research
The University of Michigan spends the second-highest amount on research of all universities in the United States. It is a broad and deep university with unmatched talent in science, medicine and the humanities. As part of the fabric of the vibrant and diverse research happening across the institution, our cancer center takes advantage of the unique collaborations in our many top-ranked schools and colleges. We can harness innovation by engaging disciplines that are not typically thought to be central to attacking the cancer problem (including faculty in fields like engineering and mathematics), as well as through more traditional collaborations between faculty in medicine, public health, nursing and social work.
Proteogenomics Center will combine study of protein and genes to help researchers understand molecular basis of cancer
A grant from the National Cancer Institute has established the Proteogenomic Data Analysis Center, one of only FIVE nationally funded centers dedicated to accelerating research into understanding the molecular basis of cancer and sharing resources with the scientific community. The Proteogenomic Data Analysis Centers support the NCI's Clinical Proteomic Tumor Analysis Consortium, which broadens efforts to explore the complexities of cancer proteomes and their connections to abnormalities in cancer genomes.
Get the full story by reading: Grant establishes proteogenomics center at U-M.
Training the Next Generation of Clinicians and Researchers
In cooperation with the world-renowned U-M Medical School, we are dedicated to educating and training the next generation of oncologists and oncology researchers through fellowship programs, graduate training programs, and postdoctoral programs. The Medical School was the University's first professional school, and since graduating its first class of six students in 1851 — a group which paid a mere $5 for two years of medical education — we have become a leader in preparing the physicians and scientists of the future.
Our students are involved in many research activities, and are given the freedom and resources to pursue those lines of inquiry that are of greatest interest to them. Many will play a crucial role in discoveries that will make an impact worldwide. Our students also play a key role our mission to provide excellence in patient care.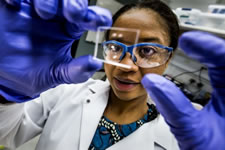 One grad student's journey from research concept to publishing
Michigan Engineering graduate student Rhonda Jack (pictured) had a vision for a new device to diagnose and treat cancers more precisely and effectively. The idea was a system that could process a large volume of blood in a single device and capture these rare cancer cells. She saw it through the challenges of design, and in effort to publish the work, demonstrated proof after proof of its promise for understanding individual cases of cancer.
Get the rest of this inspiring story by reading: Unstoppable.