What We Do

The Community Outreach and Engagement team is focused on reducing the cancer burden in Michigan. We utilize data driven strategies and community based participatory approaches to implement evidence-based interventions among a wide range of disparate populations across our statewide catchment area. Led by faculty experts and our community advisory board, we facilitate bi-directional research to advance science and build capacity among community partner organizations across Michigan.
AIMS:
Identify and Communicate the Cancer Burden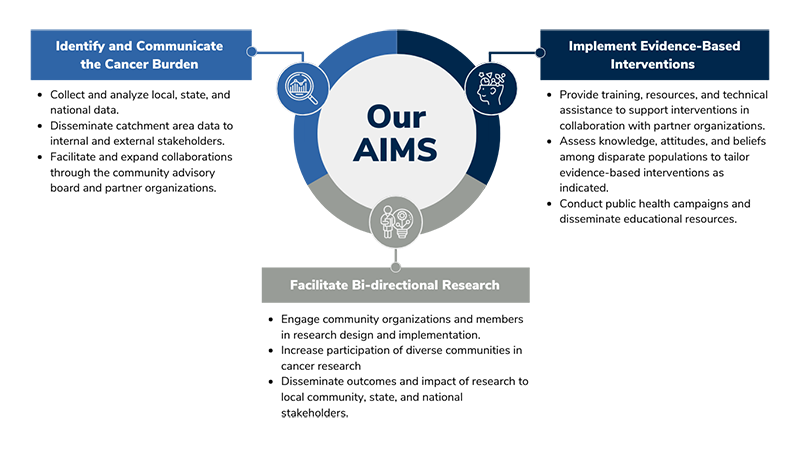 Identify and Communicate the Cancer Burden
Collect and analyze local, state, and national data.
Disseminate catchment area data to internal and external stakeholders.
Facilitate and expand collaborations through the community advisory board and partner organizations.
Implement Evidence-Based Interventions
Provide training, resources, and technical assistance to support interventions in collaboration with partner organizations.
Assess knowledge, attitudes, and beliefs among disparate populations to tailor evidence-based interventions as indicated.
Conduct public health campaigns and disseminate educational resources.
 Facilitate Bi-directional Research
Engage community organizations and members in research design and implementation.
Increase participation of diverse communities in cancer research.
Disseminate outcomes and impact of research to local community, state, and national stakeholders.