3 Ways to Cope with Pandemic Stress if you Have Cancer
by Mary Clare Fischer
Rogel Cancer Center social workers and a patient navigator share how to manage the worries and constraints of living with cancer during the pandemic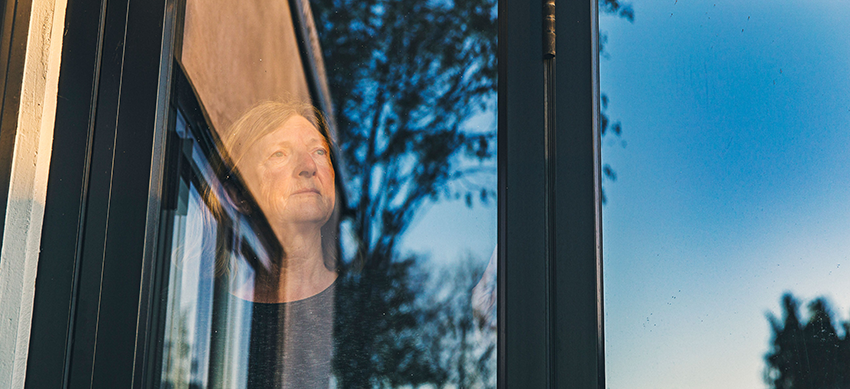 Issue: Isolation
People with cancer and their caregivers have found themselves increasingly isolated, either at home, where they've spent more time in an eff ort to lower their risk of contracting the coronavirus, or in the hospital, which has periodically tightened visitor policies to help reduce virus transmission.
Resource
Zoom, FaceTime and other video communications platforms allow you to remain connected to friends and family members as well as health care providers.
Social workers also encourage caregivers to ask their larger support groups for help with tasks like dropping off groceries or handling Facebook updates about the patient's health — small gestures that can reduce the burden on the caregiver without adding face-to-face contact into the mix.
Issue: Anxiety
During the pandemic, some people with cancer have become anxious about whether their symptoms are related to their disease and treatment or whether they're signs of COVID-19.
Resource
Patients can call their clinic to discuss their concerns. "Patients can be hesitant to call for seemingly small reasons," says outpatient social worker Emily Uebel. "We spend time making it feel more like the norm to call with any medical questions or worries that may come up."
Issue: Access
A range of challenges that can aff ect access to health care — including financial difficulties, food insecurities and transportation barriers mdash; have cropped up for people with cancer who may have lost jobs or caregiver support due to the pandemic.
Resource
The Patient Assistance Center as well as Anna Gilbert, the Rogel Cancer Center's patient navigator, can direct patients to the appropriate resources. You can reach the PAC at 734-232-2208. A message can be sent to Gilbert through the Rogel Cancer Center Call Center or ask your providers for a referral.
Individual counseling is available and encouraged. Rogel Cancer Center patients can call 734-647-8902 to request to speak with a social worker.
Continue reading the Summer, 2021 issue of Thrive; or print the issue.
Learn more about COVID-19 and coping with stress:
For perspectives from cancer survivors, practical advice on living with cancer and expertise from our leading care professionals, sign up for the Thrive newsletter.