What You Need to Know About the COVID Vaccine and Mammograms
contributed by Mary Clare Fischer; originally published on the Michigan Health Blog
Swollen lymph nodes, a possible side effect of the vaccine, could raise unnecessary concerns if they appear on your screening exam. An expert explains why waiting a few weeks after your shot to get your next mammogram may be prudent.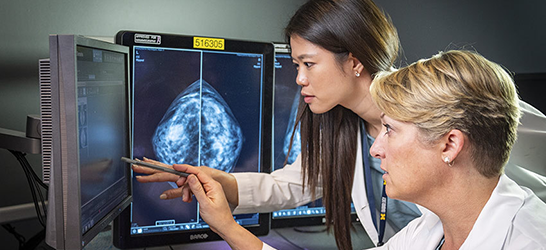 Pre-COVID, Katherine Klein, M.D., a clinical associate professor of radiology at Michigan Medicine, and former interventional radiology resident Alexandria Jo, M.D., review a mammogram image.
Credit: Scott C. Soderberg of Michigan Photography
The foremost network of cancer centers in the United States is recommending that people wait to get certain imaging such as mammograms until four to six weeks after their final dose of their coronavirus vaccine — as long as the delay does not interfere with their health care.
The new guideline from the National Comprehensive Cancer Network, of which the Rogel Cancer Center is a member, stems from a potential side effect of the COVID-19 vaccines: swollen lymph nodes.
"We have started to see swollen lymph nodes on a small fraction of imaging tests that involve the armpit, including mammograms," says Kimberly Garver, M.D., a clinical assistant professor in the Department of Radiology and the director of breast imaging at Michigan Medicine.
Temporary swelling of the lymph nodes is a normal side effect of various vaccines that can indicate the body is producing the necessary antibodies to defend itself against a virus. When swollen lymph nodes show up on mammograms, though, they can be considered signs of infection, inflammation or cancer.
Swollen lymph nodes were reported as an occasional reaction for only the Moderna and Pfizer-BioNTech vaccines, but the NCCN recommends that those who have received the Johnson & Johnson vaccine delay their imaging, too, since data is still emerging.
However, people should only postpone mammograms if this does not have a negative impact on their health, and Garver stresses that routine cancer screening is crucial to detect early disease. (Cancer screenings that do not involve imaging, like Pap and prostate tests, do not need to be delayed.
She recognizes that many people have already put off testing because of the pandemic and may have trouble finding another day they can take time off of work to come in for scans.
To help you figure out when to get your screening mammogram in relation to your COVID vaccination, follow the guide below to find the option that fits you best.
Tips for timing COVID vaccination and breast cancer screening
If you have been vaccinated in the last six weeks, already have a mammogram scheduled to screen for cancer, and would like to reschedule your test:
If your mammogram is scheduled at a health care system other than Michigan Medicine, contact your provider to discuss the issue. Michigan Medicine patients can reschedule their tests through the patient portal or by contacting the Radiology Call Center at 734-936-4500 between 8 a.m. and 5 p.m.
If you have been vaccinated in the last six weeks, already have a mammogram scheduled to screen for cancer, and decide not to delay your test:
If swollen lymph nodes show up on your scans, you may be called back for an additional mammogram and/or ultrasound of your armpit area. Speaking with your provider is essential to getting the best care based on your individual needs.
If you have not gotten a COVID vaccine yet and are due to undergo a mammogram in the near future:
> See if you can schedule your screening soon, before you get the COVID-19 vaccine. If a vaccination appointment becomes available and creates a conflict, you can always reschedule.
If you are a Michigan Medicine patient and have any further questions about scheduling a mammogram:
Contact the Radiology Call Center at 734-936-4500.
Learn more about COVID-19 and cancer screening and treatment