Cancer Care in the Time of COVID-19
by Ian Demsky
What's changed and what patients need to know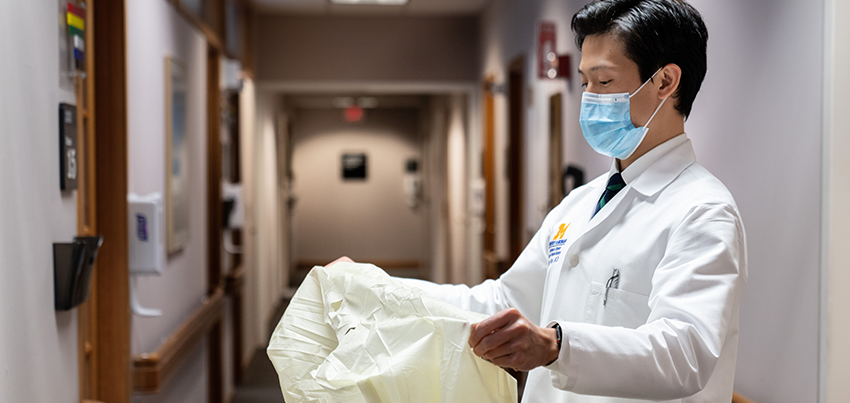 A cancer diagnosis for oneself or a loved one never comes at an opportune time.
And the global COVID-19 pandemic, now in its second year, has imposed new challenges for patients and health care providers.
Having cancer can increase the risk of serious illness from COVID-19, which has led to additional stress for patients, their caregivers and their families.
Like hospitals across the country, the University of Michigan Rogel Cancer Center instituted changes throughout the entire organization in the wake of COVID-19 — some visible, some behind-the-scenes — to ensure we continue to provide excellent care while protecting patients and staff.
"We know that right now, the thought of going to a hospital or clinic might be causing some additional anxiety — so we want to reassure those patients that we are putting every possible precaution in place," says radiation oncologist Lori J. Pierce, M.D.
What's changed
Since the pandemic began, we've implemented changes that include:
creating more physical distance in waiting rooms and infusion centers
expanding virtual visits for many types of patients, so they don't have to come in person
spacing out visits by extending clinic days and hours
limiting the number of visitors and companions
"We've had to get creative because any change you make has a ripple effect across all the interlocking components it takes to provide truly multidisciplinary cancer care," says oncologist David C. Smith, M.D., who oversees the cancer center's clinical operations.
And while more virtual visits have made some things safer, easier and faster, they're not perfect, acknowledges Daniel Hayes, M.D., who treats patients with breast cancer. [Note: Dr. Hayes retired from clinical care in 2023].
"The hardest part for me is that you can't look a patient in the eye, hold their hand or give them a hug," Hayes says. "Building relationships with patients and their families is one of the most rewarding parts of being an oncologist."
What patients need to know
Patients should speak with their providers about their individual situations and concerns.
We encourage medically eligible patients and their caregivers to get vaccinated against COVID-19, and to take whichever variety of vaccine is offered to them. Those whose immune systems are weakened by treatment, however, may not achieve a full measure of protection.
The cancer center offers resources and services to help cope with the stress of treatment — from mental health to nutrition and finances — especially during this uncertain time. See "A Lot on the Mind" and rogelcancercenter.org/support.
The pandemic's impact continues to evolve. Find the most up-to-date information at: uofmhealth.org/covid-19-update.