Bringing Harmony to Advanced Breast Cancer Care
contributed by Staci Vernick
Aki Morikawa and her team are ensuring breast cancer patients with CNS metastases receive coordinated care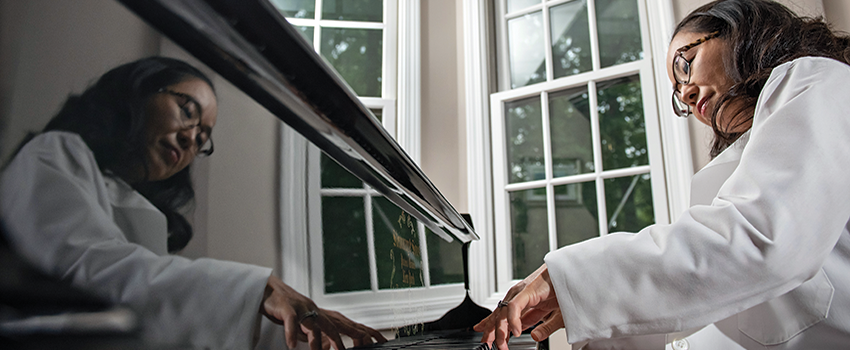 In a classical chamber music piano quartet, each musician raises the individual voices of piano, violin, viola, and cello in concert to bring a musical composition to life.
Much like a chamber quartet, a team of specialists at the Rogel Cancer Center bring their individual expertise to the coordinated, multidisciplinary care of patients with metastatic breast cancer through a new program called IMPACT the Brain. With a master's degree in piano performance and a seat in a U-M chamber music quintet, IMPACT team leader Aki Morikawa, M.D., Ph.D., understands the value of every voice playing in tune, striking the right chords at the right moment.
"Each player has their own special expertise, but we all have to work together to come up with a coordinated care plan for our patients," Morikawa says.
Rogel's IMPACT program — for Improve Metastatic Breast Cancer Patient Access to Coordinated Treatment ‐ is a collaboration of medical, surgical and radiation oncologists, and specialists in genetic testing and counseling, physical rehabilitation, neuropsychology and palliative care. It is single point of care coordination for patients with advanced disease.
The central nervous system is not the most common site for breast cancer metastases, but CNS metastases — which include spread to the brain — are uniquely difficult to treat and typically have worse outcomes. These particularities require a multi-specialty approach, Morikawa says.
For example, while drug therapies may be medical oncologists' preferred approach to treat breast cancer, the blood-brain barrier can reduce their effectiveness. Surgery and radiation therapy then become options for these patients.
Also, CNS metastases severely impact patients' physical function and quality of life. Brain metastases may cause double vision or seizures, so patients can't drive a car anymore, or have trouble with daily activities, says Morikawa, an assistant clinical professor and medical oncologist. Many patients become too weak to walk, and they may have issues with incontinence. Neuro-oncologists, and physical rehabilitation and neurocognitive specialists are needed to round out the care team.
The challenge lies in coordinating all of those players and addressing any gaps in care.
From a referring physician's standpoint, it can be difficult and time-consuming to navigate the system and make referrals to all the needed specialists. To a cancer patient or caregiver, it can simply be an overwhelming barrier to care.
This was the impetus for IMPACT. With funding from the National Comprehensive Cancer Center Network Oncology Research Program and Pfizer, Morikawa and colleagues launched a small quality improvement study in May 2020 to try to improve access to coordinated care for breast cancer patients with CNS metastases. A dedicated program coordinator provided patient navigation, education, referrals to seven sub-specialties, and clinical trial screening for a cohort of 40 patients. Investigators tracked referrals and patient-reported outcomes.
In an abstract published in August in Neuro-Oncology Advances, the researchers report that IMPACT allows for better patient access to care across sub-specialties. The vast majority of patient feedback surveys reflected the high value placed on personalized care coordination.
Importantly, Morikawa says, they found IMPACT supports participation in clinical research for a group of cancer patients who are historically underrepresented in research studies because of their brain metastases. Among enrolled patients, 17 participated in metastatic breast cancer clinical trials.
Rogel is one of the few cancer centers that offer clinical trials for CNS metastases, with nine Phase 1, 2 and 3 studies underway for molecular targeted therapies, and radiotheranostics (radiation therapies and diagnostics). Morikawa is the lead investigator on three studies of targeted drug therapies.
IMPACT is among only a handful of similar programs in the country, all located at major academic medical centers like Michigan Medicine.
"We're fortunate at Rogel to have access to all of these specialists who are wonderful collaborators and share their expertise," Morikawa says. "Many community hospitals and smaller practices typically do not."
Metastatic breast cancer research might at first seem like an odd career path for a young woman who fell in love with the piano. After earning her bachelor's and master's degrees in piano performance at Boston University School of Arts, she appeared destined to become a professional musician.
But as it turns out, cancer research is literally in her genes. Both of her parents were cancer researchers, and she lost her father and an uncle to the disease. And while her family praised her musical talent and ambition, the practical work ethic instilled through her Japanese upbringing won the day. "My parents, you know, wanted me to have what they considered a real job," she says, laughing.
Morikawa went on to earn an M.P.H. in epidemiology and biostatistics at Boston University School of Public Health, and a Ph.D. in epidemiology and M.D. from Emory University. She completed an internal medicine residency at Emory, then a medical oncology fellowship at Memorial Sloan Kettering. It was there that she met her husband, Patrick Burke, M.D., a clinical assistant professor and leukemia specialist. The pair of clinician-researchers joined Rogel in 2014.
She continues with her music, she says, because it's a good therapeutic outlet for balancing her cancer research and caring for patients. Morikawa plays piano for a chamber quintet with members of Michigan Medicine's Life Sciences Orchestra.
What's on Morikawa's horizon?
"IMPACT is preliminary data showing us the needs and challenges of care coordination in this patient population. We want to build on this quality improvement. Can we apply it to other tumor types,for example?" she asks.
Ultimately, Morikawa sees this fruitful multidisciplinary collaboration in translational research leading to more clinical trials of genomically-guided approaches, and new options for patients with advanced metastatic disease.
Continue reading the online version of Illuminate Winter 2022 issue:
Print/download the Winter, 2022 issue of ILLUMINATE.
Get research news in your inbox!
Our Illuminate e-newsletter showcases the important and unique research underway at the Rogel Cancer Center.
Follow this link and sign-up today!