Feedback Loops
contributed by Nicole Fawcett
Postdoctoral fellow Zeribe Nwosu has challenged himself at every step of his journey to the forefront of cancer metabolism research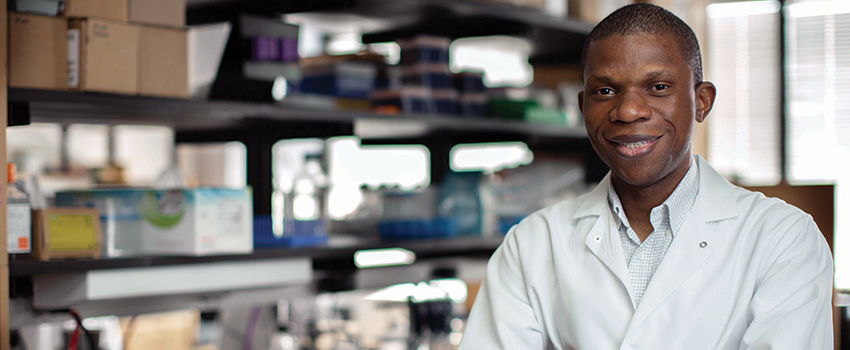 At each fork in the road, Zeribe Nwosu, Ph.D., has been unafraid to change course. His studies have taken him from Nigeria to England, Germany and now Michigan. Over the course of this trajectory, he also adjusted his research focus from cardiovascular disease to various cancer types, notably liver and pancreatic cancer.
His choices have been based on a clear view of his driving purpose and a willingness to step out of his comfort zone in pursuit of that vision.
"At the center of it all, I want to do something that will help patients. That is why I had no difficulty accepting a switch to working on cancer. When I reflected on it, cancer was just as big a problem as heart disease,"" Nwosu says.
Today, as a postdoctoral trainee in the labs of Costas Lyssiotis, Ph.D., and Marina Pasca Di Magliano, Ph.D., Nwosu is focused on the intersection of metabolism, genomics and the immune system in pancreatic cancer — asking questions like: How do pancreatic cancer cells feed? How do immune cells impact pancreatic cancer metabolism? What gene signatures control tumor growth? And how can targeting any of those processes lead to better outcomes for pancreatic cancer patients?
These questions are components of the broader research themes on which Lyssiotis and Pasca Di Magliano actively collaborate at the Rogel Cancer Center.
Nwosu recently conducted a study to identify genes that show expression differences across multiple pancreatic tumor tissue samples. In that study, published as a preprint on bioRxiv, Nwosu and colleagues identified about 4,000 consistent genes across pancreatic ductal adenocarcinoma datasets. More than half of those genes have not been previously studied in this tumor type. Nwosu and his colleagues highlighted 185 upregulated genes that could be potential therapeutic targets.
The authors call their findings an "important milestone in the quest for mechanisms, drug targets and biomarkers" in pancreatic cancer.
Nwosu first met Lyssiotis at a conference in Spain. At the time, Nwosu was pursuing a doctorate in molecular and cellular biology at the University of Heidelberg in Germany. He was at the conference to present a poster of his work on liver cancer genomics.
Lyssiotis viewed the poster and disagreed with one of Nwosu's findings. It was a spirited but collegial discussion that made a positive, lasting impression. So, when Nwosu was looking for a place to do his postdoctoral training more than a year later, he remembered Lyssiotis and reached out.
"But Michigan? I'm not entirely sure I want to go there," he recalls thinking. "I didn't know much about U-M, but then I looked at Costas's publication record and said I want to work with him."
In addition, he saw U-M as a place where he could advance his interest in cancer metabolism. It's an area the Lyssiotis lab and others at the Rogel Cancer Center are looking to as a potential target to exploit, particularly for cancer types like pancreatic cancer, which have so far been resistant to immunotherapy or targeted therapies. If researchers fully understand what makes cancer cells metabolically different from normal cells — for example, their nutrient needs — they might be able to exploit this knowledge to identify better drug targets and effective therapies.
Nwosu has worked on several projects in both his mentors' labs and has lent his expertise to studies led by other faculty members on colorectal cancer, melanoma, Ewing sarcoma and glioblastoma.
Ultimately, Nwosu plans to pursue an independent faculty position that would enable him to continue his work on cancer while also training others.
Pancreatic cancer is a challenging disease. The five-year survival rate hovers around 10%, and many of the advances that have fueled progress in other cancer types are currently ineffective against pancreatic cancer.
Nonetheless, Nwosu sees hope.
"You may have to do 100 things for 10 to be successful. Therefore, if you think too much about the failures, you're never going to succeed. So now your motivation is looking for successes," he says.
Continue reading the online version of Illuminate Winter 2022 issue:
Print/download the Winter, 2022 issue of ILLUMINATE.
Get research news in your inbox!
Our Illuminate e-newsletter showcases the important and unique research underway at the Rogel Cancer Center.
Follow this link and sign-up today!