You Don't Have to Live in Pain
contributed by Mary Clare Fischer and Anna Megdell
Why Rogel's palliative care providers can help sooner than you'd think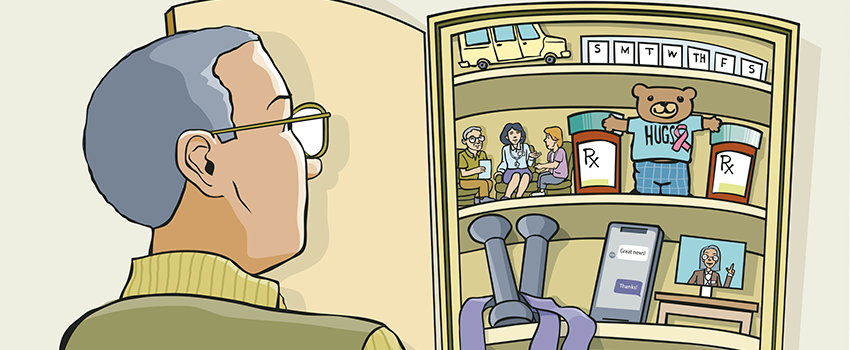 Illustrator: Donald Morris
Palliative care has become known as the discipline that deals in tough conversations about the end of life. To some extent, that's true; Ketti Petersen, M.D., the physician lead for the Palliative Care and Supportive Oncology Clinic at Rogel, acknowledges that the palliative care providers don't shy away from asking challenging questions — but really, the discussions are just as much about how patients want to live as their preferences about death.
"We try to help people live as well as they can, for as long as they can, given the limits of their body and their disease," Petersen says.
That goal doesn't change for the team's patients who have been diagnosed with advanced cancer, some of whom are living with chronic, stable disease — or even no active signs of cancer — but are still coping with the effects of their treatment.
Katie Patterson, N.P., a nurse practitioner in palliative care, says common side effects for patients include pain, nausea, fatigue and tingling in the hands and feet.
For many patients with advanced cancer, Petersen says it can start to feel burdensome to bring up yet another problem to their provider. Or they may feel the issue somehow lies with them.
"If a patient is saying to me, 'This chemotherapy is exhausting, and I spend all my time in bed, and I can't go to my kids' soccer games,' and I ask them if they've shared that with their oncologist, the response is usually that they don't want the physician to stop their treatment," Patterson says. "I tell them there are always options."
Given the number and complexity of medications the team's patients often take, the symptom relief solution for one person may not work for someone else — and sometimes what worked once no longer does, especially for people who have been living with cancer for a long time.
That's when the team can step in to manage medications, give injections for pain or connect patients with cancer rehabilitation physicians and physical therapists.
Sometimes, Madison Irwin, Pharm.D., is on the case. A pharmacist who is specialty trained in pain management and palliative care, she can lend her expertise to assist with managing complex drug regimens.
"Our whole goal as a palliative care team is to improve and optimize quality of life," Irwin says. "The situation for these patients can change quickly, so being able to respond at a moment's notice is really valuable."
Sometimes the answer is more emotional support. Patterson once spoke to a young woman with metastatic cervical cancer and her husband every week for about two months. (Starting this past summer, two social workers are helping the palliative care team, too.)
This relationship building puts the palliative care team in a position to advocate for their patients. They have gone to patients' oncology appointments and sent oncologists lists of questions to make sure patients' needs are being heard across the care team.
"We have an amazing toolbox in palliative care of different tools that we can use," Petersen says. "It's all about finding the right tool for the problem."
Resources
If you're interested in palliative care, ask a Rogel provider or your primary care physician for a referral.
Continue reading the Fall, 2022 issue of Thrive