Timeline
2018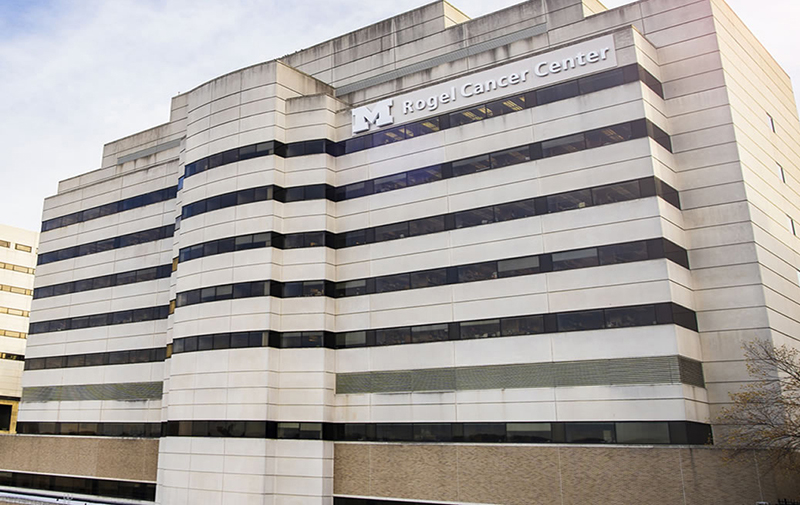 Richard and Susan Rogel donate $150 Million to the University of Michigan Comprehensive Cancer Center

This gift is the largest ever to Michigan Medicine and one of the largest in the University of Michigan's history. It enables Michigan Medicine to draw on its collaborative research culture to drive cancer care forward. It helps attract and support outstanding cancer researchers from around the world, including the most promising fellows and trainees, making the University of Michigan a premier center fostering the development of new leaders in cancer research and care.

Through six components, the gift focuses on developing promising scientists and leveraging the university's broad and deep strengths in science, medicine and innovation:

Pioneering cancer research and technology
Collaborative network
Cutting-edge scientists
Scientific freedom
Promising new researchers
Scholarship support
2017
Researchers at the University of Michigan Comprehensive Cancer Center uncovered a novel gene they named THOR while investigating previously unexplored regions of the human genome -- or the human genome's dark matter.
Successful Comprehensive Cancer Center Grant Renewal: NCI Evaluation; Outstanding to Exceptional Merit (21)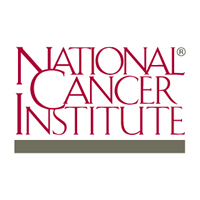 Grant establishes proteogenomics center at U-M
U-M researchers received a grant from the National Cancer Institute to establish a Proteogenomic Data Analysis Center. The center will comprehensively characterize cancer tumor samples to integrate and analyze proteogenomic data to improve researchers' ability to develop more targeted cancer therapies.
The Proteogenomic Data Analysis Centers will support the NCI's Clinical Proteomic Tumor Analysis Consortium, which will support broad efforts to explore the complexities of cancer proteomes and their connections to abnormalities in cancer genomes. In addition, the potential of proteomic and proteo-genomic approaches will be explored in translational research focused on clinically relevant problems, such as the ability to predict which treatments are likely to be effective against a specific patient's tumor.
2016
Forbes' $17.5 million gift to stimulate cancer research

This gift to the university's $4 billion Victors for Michigan campaign creates the Forbes Institute for Cancer Discovery within the U-M Comprehensive Cancer Center. It is the largest private donation for cancer research in the school's history.
In addition, the Forbes' gift will:
Advance cutting-edge science from the laboratory to patients by stimulating innovative technology and new therapies.
Offer team research awards for cross-disciplinary efforts -- bringing together faculty from disparate areas including medicine, business, pharmacy, dentistry, engineering and public health. Such research will be aimed at developing better cancer treatments.
Create Senior Forbes Scholars and Emerging Forbes Scholars programs in cancer discovery.
Establish the Madeline and Sidney Forbes Professorship in Oncology within the U-M Comprehensive Cancer Center. This professorship has been awarded to Max S. Wicha, M.D.
Learn more by visiting the Forbes Institute for Cancer Discovery's website.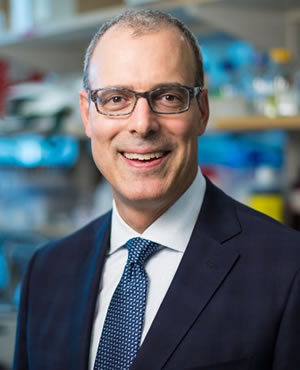 Dr. Eric Fearon named director of University of Michigan Comprehensive Cancer Center
Eric Fearon, M.D., Ph.D., the Emanuel N. Maisel Professor of Oncology at the University of Michigan, is a nationally recognized investigator in cancer genetics. His research has led to a greater understanding of gene defects that cause colon and rectal cancer to develop and spread.
Fearon succeeds Ted Lawrence, M.D., Ph.D., who stepped down as Cancer Center director to continue his role as chair of the university's Department of Radiation Oncology, which he has held for 18 years. Fearon's appointment was approved Sept. 15 by the University of Michigan Board of Regents.
"Our Cancer Center has a history of success, with many exciting recent and ongoing initiatives. I am honored to have the opportunity to continue moving us forward," says Fearon, professor of internal medicine, human genetics and pathology at the University of Michigan.
2015
Dr. Theodore Lawrence named director of University of Michigan Comprehensive Cancer Center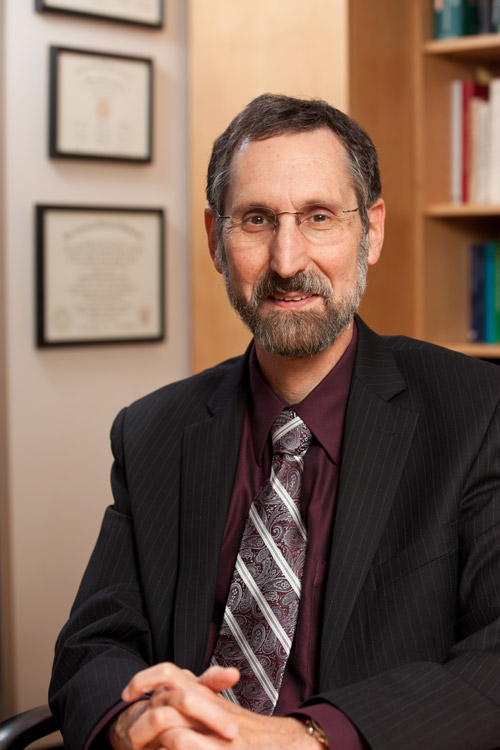 Theodore S. Lawrence, M.D., Ph.D., has been named the director of the University of Michigan Comprehensive Cancer Center.
Lawrence succeeds Max S. Wicha, M.D., who founded the Cancer Center 27 years ago.
"This is a tremendous program with talented and dedicated faculty and staff, a terrific research infrastructure and superb core facilities," says Lawrence, who will assume the title of Max S. Wicha, M.D., Distinguished Professor of Oncology. He is also chair of radiation oncology at the University of Michigan Medical School.
Urine-based test improves on PSA for detecting prostate cancer
A new urine-based test improved prostate cancer detection – including detecting more aggressive forms of prostate cancer – compared to traditional models based on prostate serum antigen, or PSA, levels, a new study finds.
The test, developed at the University of Michigan Comprehensive Cancer Center, is called Mi-Prostate Score, or MiPS. It combines PSA with two markers for prostate cancer, T2:ERG and PCA3, both of which can be detected through a urine sample.
Hovnanian Foundation gives U-M $1.65M for adrenal cancer research
The University of Michigan Comprehensive Cancer Center received a $1.65 million gift from the Hirair and Anna Hovnanian Foundation to fund adrenal cancer research. The gift will further the work of Gary D. Hammer, M.D., Ph.D., and Shruti Jolly, M.D., who treated a member of the Hovnanian family for adrenal cancer.
The bulk of the gift, $1.5 million, will go toward establishing a named Adrenal Cancer Repository and Genomic Database. This gift will enable Hammer and his team of researchers to conduct the world's most comprehensive genomic and genetic analysis of adrenal cancer, which will facilitate translational and clinical research in adrenal cancer. It will help expand and further activate the largest adrenal tumor bank, which is pivotal to uncover the molecular mechanisms of tumor growth and novel insights that will lead to the next generation of adrenal cancer therapies.
2011 - 2014
2014
Shaomeng Wang, PhD, Professor, Department of Pharmacology and Cancer Center Member has been selected to receive the Distinguished University Innovator Award for 2014.

Sponsored by the Office of Research, the award honors faculty who have made important and lasting contributions to society by developing novel ideas and insights through their research, and then translating them to practice.
2013
U-M joins the Big Ten Cancer Research Consortium, a collaboration of cancer programs at Big Ten universities, in an effort to transform cancer research through collaborative oncology trials that leverage the scientific and clinical expertise of those universities.
2012
Cancer Surveillance and Outcomes Research Team receives $13.6 million award from the National Cancer Institute to examine how physicians and patients make treatment decisions.
U-M implements Focus on Women, a series of seminars addressing various health and wellness issues for women across the lifespan.
U-M researcher Arul Chinnaiyan named co-principal investigator on $10 million prostate cancer "dream team" grant from Stand Up to Cancer and the Prostate Cancer Foundation.
Translational Oncology Program is created with the goal of harnessing the Cancer Center's expertise in basic science research to speed the translation into clinical trials and new treatment opportunities for cancer patients.
2011
Adult and pediatric bone marrow transplant and pediatric cancer care moves to new C.S. Mott Children's Hospital.
Cancer Center creates the Patient and Family Advisory Board to act as an advisory resource committee to the administration, faculty and staff of the cancer program.
2007 - 2010
2010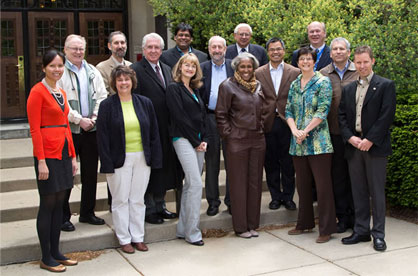 Cancer Center administrative staff and researchers are among the first to move into space at the 174-acre North Campus Research Complex, which the University purchased from Pfizer Corp.
Team of U-M researchers receive Gastrointestinal SPORE grant [photo at right]
U-M offers series of Pap screenings in communities around the state.
2009
U-M researchers Max Wicha and Arul Chinnaiyan named to new Stand Up to Cancer breast cancer "dream team".
Breast cancer surgery moves to a new suite at the East Ann Arbor campus that locates pathologists on-site in the operating suite to assess tumors and lymph nodes immediately upon removal. This reduces the need for second surgeries.
2008
Ravitz Center Phase I/Translational Research Center opens, providing a dedicated resource for evaluating novel cancer therapies.
U-M named Blue Distinction Center for Complex and Rare Cancers as part of a national program by the Blue Cross and Blue Shield Association.
U-M initiates the Men's Fellowship Breakfasts, a series of morning events held several times a year to promote health and wellness information.
U-M initiates annual Hats and High Tea for Breast Cancer Awareness
2007
U-M researchers are first to identify stem cells in pancreatic cancer and head and neck cancer.
U-M initiates Dia de la Familia Latina, an annual health fair aimed at Latina families.
2002 - 2006
2006
Cancer Center building becomes totally devoted to cancer.
The Cancer Center offers infusion services at the U-M Canton Health Care Center, bringing cancer treatment into the community.
2005
U-M researchers identify a "gene fusion" that occurs in about half of prostate cancer. This becomes the building block for developing personalized, molecularly targeted prostate cancer treatments.
2003
U-M researchers publish first paper identifying cancer stem cells in breast cancer, the first example in a solid tumor. Researchers believe these cells are resistant to current chemotherapies and radiation.
The Cancer Center's Center for Health Communications Research is designated a Center of Excellence in Cancer Communications Research by the National Cancer Institute.
U-M initiates the Men's Fellowship Breakfasts, a series of morning events held several times a year to promote health and wellness information.
2002
Team of U-M researchers, led by Gregory Wolf, M.D. receive Head and Neck Cancer SPORE grant.
1991-1998
1998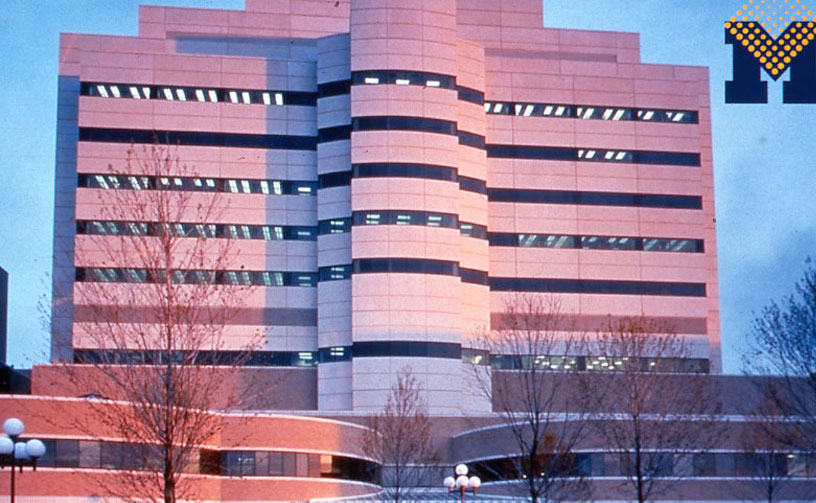 U-M football coach Lloyd Carr initiates Women's Football Academy, which originally raised money for the breast cancer program.
1997
Nine-story building opens to house clinics and laboratories devoted to cancer and geriatrics care and research.
1995
Team of U-M researchers, led by Ken Pienta, M.D. (pictured right) receive Prostate Cancer Specialized Program in Research Excellence (SPORE) grant.
Cancer AnswerLine begins, providing personalized information about cancer to the community from registered oncology nurses.
U-M is a founding member of the National Comprehensive Cancer Network (NCCN), an alliance of the world's leading cancer centers dedicated to improving the quality and effectiveness of cancer care.
1994
U-M holds its first Survivors Day celebration.
1993
Researchers publish initial findings describing radio-immunotherapy for patients with non-Hodgkin's lymphoma using a new drug that will come to be called Bexxar.
1991
U-M receives NCI's elite designation as a "comprehensive" cancer center.
1986-1988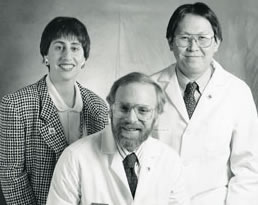 1988
The National Cancer Institute awards U-M a cancer center designation.
1986
University of Michigan regents approve establishment of a cancer center with Max Wicha, M.D. as founding director and Marcy Waldinger as Administrator.
[from left to right in the photo: Marcy Waldinger, Max Wicha, MD and Alfred Chang, MD]