Translational and Clinical Research
Providing Scientific Excellence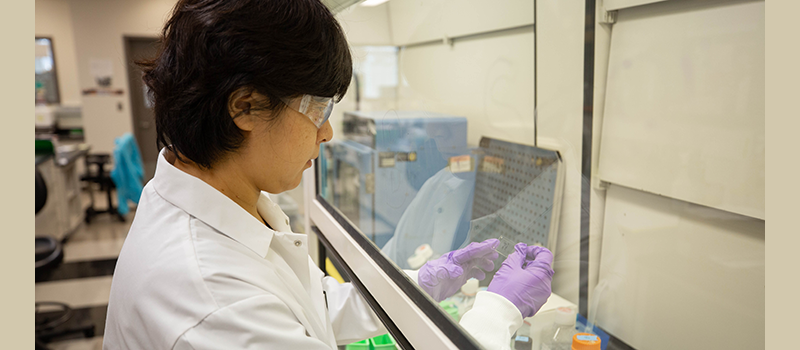 Translational and Clinical Research Specific Aims
Aim 1: Molecular Approaches to Patient Care
Develop and apply state-of-the-art molecularly targeted approaches to cancer diagnosis and treatment.
Aim 2: Disease Monitoring Strategies
Develop and test new predictive biomarker and disease monitoring strategies across tumor types.
Aim 3: Clinical Trials

The University of Michigan Rogel Cancer Center's Translational and Clinical Research (TACR) Program builds on a rich history of research and the translation of scientific discovery to the development of novel therapeutic treatments for patients with cancer. But translation goes beyond just bench to bedside. At the University of Michigan, clinical and basic science researchers work together to identify key questions and conduct innovative studies funded by grants from a range of sources, including the National Institutes of Health. Whether it's bench-to-bedside or bedside-to-bench, at the core of our program, we are committed to delivering innovative cancer treatments.
Changing the Approach to New Cancer Therapies
Our TACR Program members have expertise ranging from clinical trials and biomarkers to imaging and image-guided therapy. For the physicians and scientists at the U-M Rogel Cancer Center, this is not a job, but rather a passion. Our expert team overcomes disease-specific issues with collaboration and the translation of research discoveries.
The hallmark of the TACR Program is to change the approach to developing new therapies. We believe an academic approach with every step of discovery, development and delivery under our roof better integrates research with clinical care to reduce the burden of cancer for patients.
True Oncology Translational Research
Our approach to cancer care lies in the evaluation of molecular data, employing precision medicine techniques to personalize treatment recommendations.
The University of Michigan was one of the first academic medical centers to establish a clinical sequencing program. Begun in 2010, Mi-ONCOSEQ allows our team to characterize the somatic mutational landscape of metastatic cancers among our patient population. All data from these investigations are shared across both clinical and laboratory-based researchers, providing a scientific basis that informs both clinical practice and disease biology.
A hallmark of the program is the precision medicine tumor board – a team of molecular medicine and disease-specific experts who meet weekly to analyze the results and recommend clinical trials or approved drugs that might be appropriate based on a patient's mutational status.
This translational approach plays into our multidisciplinary philosophy toward care. Today, we have 20 disease-specific tumor boards which serve as a collaborative exchange of information to offer the best consensus-driven treatment options to our patients.
In addition, advances can now be made more efficiently with our molecular approach to cancer. Rather than approaching cancer research as segmented types of cancer, we can take a range of cancers and put them in a basket or grouping, called basket trials, based on the molecular or genetic mutational profile of the tumor. Treatment can then be selected, not specific to the type of cancer such as lung or breast, but specific to the molecular make-up of the tumor.
Bench-to-Bedside-to-Bench: Translational Research Benefits Patients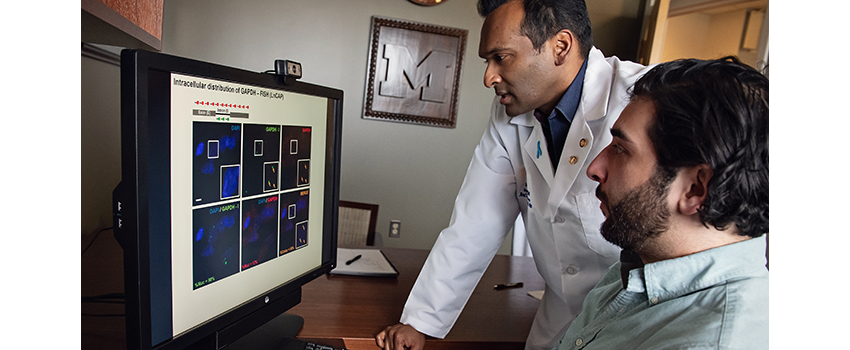 The process of moving research from the lab to patient care, called translational research, is the cornerstone of our cancer center's research efforts.
Translational research involves transforming basic science discoveries into research that advances patient care options. This means taking animal or cellular research and applying that research to a human problem that requires the participation of people. Informally, this is called moving research from the bench to the bedside or from a basic discovery to a clinical trial - the next phase of research.
Whether ideas start in the lab or with a clinician, our team works on a continuum in which scientific discoveries funnel efforts toward new treatments. We then take what we learn in the clinic and send it back to the lab for further refinement.
Because of our dedication to advance medicine, our patients at the University of Michigan benefit from the latest therapies often before they are available anywhere else.
Engaging Trainees in Research
Another key focus for the Translational and Clinical Research team is to train and influence the next generation of clinical investigators. Our TACR Scholars are fully engaged in research and that commitment allows a more significant impact on the translation of innovative discoveries.
The University of Michigan, including the U-M Rogel Cancer Center, has a strong organizational commitment to research, including Responsible Conduct of Research (RCR) Training. Our team members follow and teach federal, state and university guidelines based on the application of established professional norms and ethical principles. This robust infrastructure supports these research education efforts that lead to developing new therapeutic approaches.
Translating Lab Discoveries to the Clinic
With the goal of fostering the continuum of translation from laboratory to the clinic, we select and advance novel concepts and agents developed by colleagues across the cancer center into first-in-human trials. This incorporates not only traditional dose escalation-based testing but rich, coordinated biological analyses, including:
Inferring biological effects related to dose escalation
Multidimensional molecular analysis of pre- and post-treatment biopsies
State-of-the-art precision imaging and liquid biomarker approaches for characterizing effects of therapy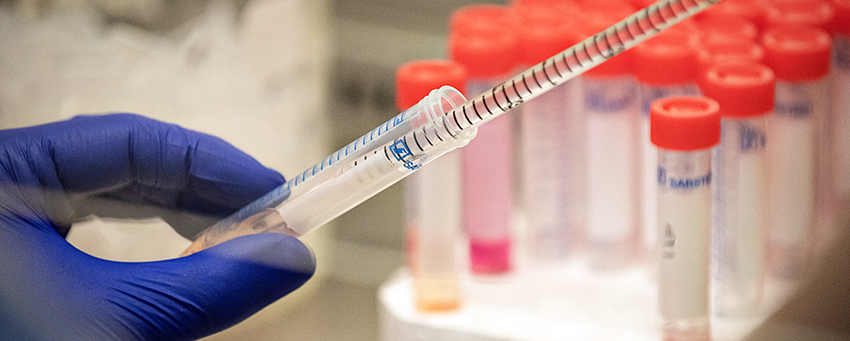 Developing New Disease Monitoring Strategies
Through developing and evaluating new disease monitoring strategies to predict clinically useful events in individual patients, we are able to provide insights into disease biology from these measurements made in human trials. We will foster the development of coordinated efforts in several key areas, including:
Immunotherapy monitoring to provide insight into the unique immune response of an individual through their course of cancer immunotherapy
Liquid biomarkers to monitor cancer genetics in the blood
Precision imaging using physiological imaging to better assess tumor response to optimize treatment
Shared Resources Support Research Efforts
For all research scientists at the University of Michigan, Shared Resources supports the research structure. For the Translational and Clinical Research Program, the following Shared Resources are particularly important:
Cancer Data Science
Pharmacokinetics
Flow Cytometry
Tissue & Molecular Pathology
Immune Monitoring
Preclinical Imaging and Computational Analysis
Health Communications
Translational and Clinical Research Leadership: