Using science and faith to live with adrenal cancer
contributed by Mary Clare Fischer
Do Unto Others: Adrenal cancer is diagnosed in one in every million people — and studies to test new treatments for it are just as rare. As the first patient in one of the few clinical trials for the disease, Tina Reuben hopes her participation will advance the field.
When a doctor told Tina Reuben she had cancer, she was alone.
It was May 2020. Five days had passed since Tina had checked into the emergency department at University of Michigan Health-West, her potassium levels extremely low, her blood pressure so high she'd worried about having a stroke.
She had tested positive for COVID-19 and was in isolation, waiting as her providers investigated whether something else was going on with her body. The hospitalist on call had gone home for the night by the time the results of Tina's CT scan came through. But he came back in at 9:30 p.m. to tell her about the large tumor he'd seen on her imaging. The mass was an adrenocortical carcinoma, a cancer in a gland on top of the kidney.
This cancer is so rare that it's diagnosed in about one in every million people in the country. Clinical trials — research that tests novel strategies and techniques to prevent, detect and treat disease — for adrenocortical carcinomas are scarce. And even if these tumors are treated successfully, the likelihood that they will recur is high. Tina called her husband, Terence, over FaceTime to tell him what was going on. Visitors weren't allowed at the hospital, and it was frustrating that Terence couldn't hold Tina like he had through more than 20 years of marriage.
After more than a year of cancer treatment, Tina Reuben is back to her favorite hobbies, like cooking and spending time with her family, as well as her job as a physical therapist.
Photo credit: Bryan McCullough and Hunter Mitchell
"It was a horrible experience to be by yourself to find this out," Tina says.
But, later that night, the Bible verse Jeremiah 29:11 came to her: "For I know the plans I have for you, declares the Lord. Plans to prosper you and not to harm you, plans to give you a hope and a future."
Tina wrote the scripture on the whiteboard that hung on her door. When her nurse, Cassie McAlister, R.N., came in, she noticed the words. Tina works as a physical therapist at a U-M Health-West facility, and McAlister knew her as the PT who could always meet a patient on their level. McAlister walked over and erased every reference of "you" in the Bible verse, changing each one to "Tina."
"It's personal," McAlister says. "He knows the plans he has for you, Tina, not just anybody."
A neighbor of Tina's eventually turned the personalized verse into a painting that hangs in Tina's home in Grand Rapids. She looks at it often, marveling at how true its words have felt over the past two years.
Godsend after godsend has shown up for Tina — from thoughtful prayers to an opportunity to participate in a clinical trial at the Rogel Cancer Center — as she's persevered through treatment. She's determined to be one of the few people who can say they don't have adrenal cancer anymore. But she'd also like to make it a less elite club.
"There's not a lot of hope for some people with this," she says. "So if I get benefit out of the clinical trial, wonderful, but if it helps somebody else, even better."
Faith and science

Photo credit: Leisa Thompson
Ryan Hop, D.O., had never seen anything like the tumor that was growing inside Tina. But the U-M Health West physician thought that someone at the Rogel Cancer Center, two hours east, might have.
He was right. Gary Hammer, M.D., Ph.D., the director of the endocrine oncology program at Rogel, is one of the preeminent experts on adrenal cancer in the world. The physicians connected and, with Tina's agreement, decided it would be best for her to continue her cancer care at Rogel — starting with surgery to remove the tumor.
The choice paid off: Surgeon Barbra Miller, M.D., was able to remove Tina's tumor cleanly with no complications. She may have been aided by the prayers of the Reubens' minister, who drove all the way from Grand Rapids to Ann Arbor to walk around the medical campus during Tina's surgery after he said he was called to do so.
There was more to be done. Unlike most adrenal cancers, Tina's tumor was diagnosed before it had broken through the thick capsule that encases the adrenal gland or spread to other organs. Yet it was also large and growing quickly, a sign that it could return even after surgery. So Hammer recommended further treatment to increase Tina's chances of staying cancer-free long-term.
Tina had a decision to make. She could receive radiation. Or she could participate in a new clinical trial at Rogel that was testing whether a combination of IV chemotherapy and a medication called mitotane was more effective than mitotane alone in treating adrenal cancer.
"There is very little research out there for rare cancers in which a trial develops that you can enroll a patient," Hammer says. "That's why we have built our program up to facilitate a research platform to get new therapies to patients."
Tina opted to be part of the trial.
"I believe in science," she says. "I wanted to be part of the trial, if not to help myself, to help someone else in the future, because this is a horrible, aggressive cancer." Yet the trial hadn't started enrolling patients because of the pandemic, and weeks were passing quickly.
Hammer called a meeting of a Rogel tumor board, a multidisciplinary group of experts that weighs in on treatment plans for cancer patients, to confirm that Tina could wait up to 12 weeks after her surgery to start additional treatment.
But the urge to be proactive was becoming too strong for Tina to ignore.
She decided she was going to start radiation if she didn't hear about the clinical trial that very day. A few hours later, she received the call she'd been hoping for. She was going to be patient No. 1.
"It's like everything fell into place the way it was supposed to," Tina says. "I don't really believe in coincidences, and neither does science. But I've been so, so blessed."
The empowered patient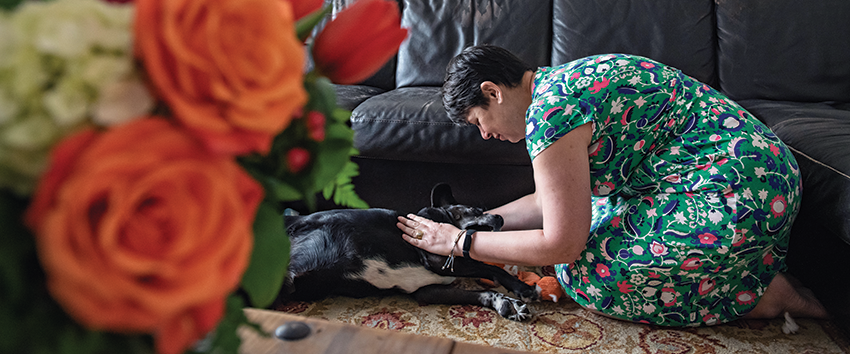 Tina has found support not only from friends and family but also from her dog, Milo.
Photo credit: Leisa Thompson
Over the next few months, Tina drove from Grand Rapids to Ann Arbor to undergo several days of chemotherapy four separate times.
Clumps of her hair started falling out. Her brain turned foggy, her gut nauseous, but she kept going.
"She felt terrible, but she kept saying that if this clinical trial is going to help someone else, she was going to do it," Terence says.
Amid the roiling side effects, Tina did research on her disease.
"I'm just one of those people that needs to know everything I possibly can do," Tina says. "The numbers are the numbers. They don't say which side you land on, and I've decided I'm going to land on the side that survives."
She shows up to her Rogel appointments with a large pad of paper and a lot of questions. ("Tina worries that she asks too many questions," says Beth Hesseltine, N.P., an advanced practice nurse for the endocrine oncology program at Rogel, "but, in fact, I enjoy talking to her because she has such good questions.") Terence keeps a spreadsheet of her lab tests, highlighting values that are outliers or trends.
"What I love about navigating the health care system this way is they're open to this," Terence says, noting that the couple's experience with health care in South Africa, from which they emigrated, was very different. "They want to make the patient feel in control of their health."
"Health care is more and more of a collaboration between a doctor and the patient," Hammer says. "This is particularly true in rare diseases, where there are not many options available and where patients are appropriately empowered to be active participants in their care.
"And Tina does exemplify the empowered patient," he adds, "who's advocating not only for herself but for the very field and for all patients with adrenal cancer by spreading awareness."
On Oct. 28, 2020, Tina celebrated her 50th birthday. A few months before, she wasn't sure if she'd still be alive. Although she'll be on mitotane for several more years, she's currently cancer-free and back to working full-time. McAlister calls her a "walking miracle."
"No evidence of disease today doesn't mean there won't be something tomorrow," Tina says. "But I do believe God has a plan for me."
Get more information about clinical trials
Contact our Cancer AnswerLine at 800-865-1125
Continue reading the Spring, 2022 issue of Thrive