Melanoma and motherhood
contributed by Mary Clare Fischer
Leah Koskinen shares her experience of being a new mom while managing the stresses of diagnosis, treatment and recovery from skin cancer.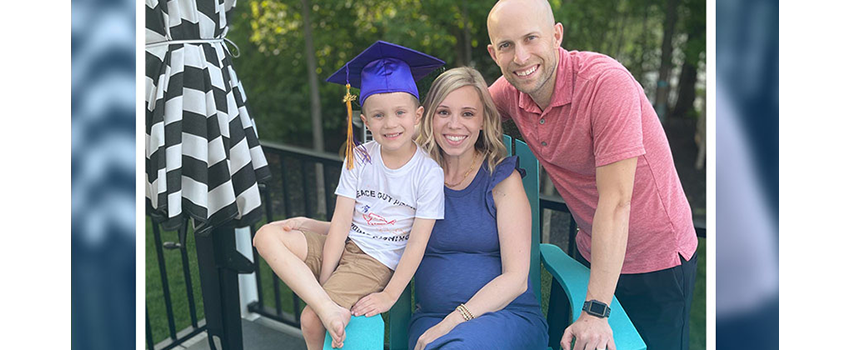 Koskinen, her husband and son pose smiling outside on a patio.
Leah Koskinen never imagined she would be a stay-at-home mom in her mid 20s. She used to think, if anything, her husband would stay at home while she became the breadwinner.
But in 2017, after being home with her newborn son for two months, she couldn't imagine her life without being around to raise him.
The phrase, "Because you're a mom now…", was all Koskinen needed to hear from her own mother when she recommended her to start seeing a dermatologist. That, and given her fair skin and fair number of moles, she made an appointment for a check-up.
One of the spots she was hoping the doctor could take a look at was a mole that had recently popped up on her left shoulder, noticeable because it was right where her bra strap lay.
The dermatologist didn't think the spot was an issue, but just to be safe, she removed it and sent the cells off to a lab for analysis.
"I didn't think twice about the biopsy," Koskinen said. "It wasn't even a worry in the back of my mind."
A week and a half later, though, her dermatologist called. Koskinen had melanoma, a type of skin cancer — and because of the depth of the cancer, the doctor was concerned that cancerous cells had moved elsewhere in her body. The dermatologist was referring her to the University of Michigan Health Rogel Cancer Center, with hopes that she could see an oncologist as quickly as possible.
"I was in complete shock," Koskinen said.
Koskinen would go on to have a successful surgery and has had no signs of cancer for a while. But it would take a team of people and several years for her to manage her anxiety around heading back out into the sun – and how to become a mother for the second time.
'It feels like forever'
When Koskinen got the call that she had cancer, she was already navigating a stressful situation.
She and her family were living in Canada because of her husband's job. They knew no one else there. Koskinen and her husband had just started trying to have a second baby, and she was concerned she could be pregnant. Over the next few weeks, she put on a brave face for her son, but the effort was, she said simply, "a lot…there's no words to describe it."
"I don't know how we survived," she said. "I was worrying about myself but then also worrying about my son, thinking, 'What if this goes really bad and I'm not here?' Up until we had all these appointments at Rogel and had a better idea of what we were working with, the unknowns and the what ifs totally took over."
When Koskinen arrived at the cancer center, she underwent testing that would determine whether the cancer had spread to her lymph nodes.
One lymph node showed signs of cancer (each person has, on average, hundreds of lymph nodes), meaning that Koskinen had stage III melanoma.
As her doctors learned more details about her cancer, they let her and her husband know that melanoma is one of few cancers with a rare occurrence of spreading to a fetus — and recommended that they wait to have another child for at least five years as a result.
"Being told five years…that's a big chunk of time when you're thinking about your family and how old you're going to be when you have the kid," Koskinen said.
As Koskinen was trying to accept this new reality, she also had to undergo surgery. In May of 2018, Lesly Dossett, M.D., the division chief of surgical oncology at University of Michigan Health, removed the tissue around where the cancerous spot had been and the lymph node with signs of cancer.
For four to six weeks afterwards, Koskinen couldn't pick up her son. She was unable to even lift her left arm above shoulder height.
"I couldn't lean back to grab something," she said.
She didn't end up needing to see a physical therapist, though, and was back to her usual routine within three months.
"Looking back, that's actually really impressive," Koskinen said. "At the time, it feels like it's forever, like it's never going to end."
How to reflect deeply and mindfully
This stress and anxiety lingered. Koskinen got frustrated with people who couldn't relate to what she had been through. Although she knew it was well-intended, it was hard for her to listen to others tell her that 'Everything will be fine' and 'Everything will work out.'
About a year after her diagnosis, Koskinen mentioned to one of her doctors that her worries were all still there. She thought it might be helpful for her to talk to someone about it who wasn't her husband or a friend.
And it was.
Claire Casselman, a senior social worker and clinician on Rogel's patient family and support services team, was "phenomenal," Koskinen said, especially as she and her husband began to navigate the process of deciding when to grow their family.
Advanced melanoma is uncommon at Koskinen's age, so there wasn't a lot of evidence to help Koskinen and her husband figure out when to start trying to conceive again. The conservative choice was to wait five years after Koskinen's diagnosis.
"Our conversations surrounded how she could reflect deeply and mindfully about the decision," Casselman said. "Could she sit with the worst-case scenario? Could she engage her husband in this conversation, with eyes wide open?"
Koskinen isn't a person who makes snap decisions. She talked through the options with Casselman, and she and her husband sat with all the possible outcomes.
At three and a half years post-diagnosis, all of her testing came back with good news — neither a CT scan nor an ultrasound or MRI showed signs of cancer. And she and her husband made their choice.
'Using what happened for good'
In November, Koskinen became pregnant.
"I'm very proud and excited that we finally made a decision to even have another baby and that we were able to get pregnant," she said. "It absolutely feels like a goal has been conquered."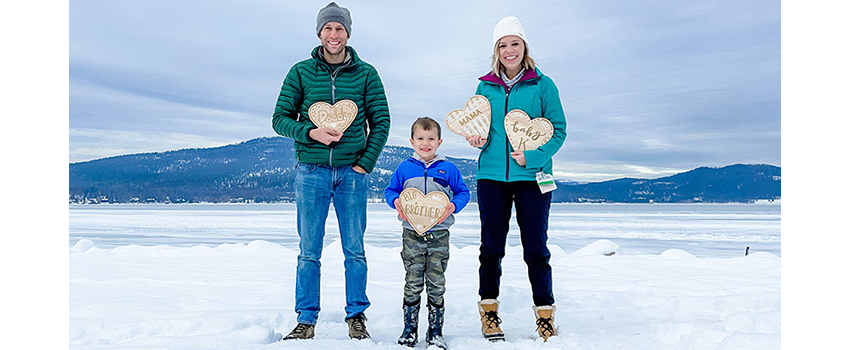 Koskinen and her family announce her pregnancy.
Doctors are monitoring her throughout the pregnancy. Koskinen takes pictures of anything suspect and the dermatologist removes these moles, even if they're likely benign. (Koskinen's husband regularly checks her back for any unusual spots that she cannot see herself.)
And Koskinen has developed specific strategies, like regularly reapplying sunscreen and sitting in the shade, that help her enjoy the outdoors and spend time with her family. Her husband is there for her when she gets anxious about how long she's been exposed, reassuring her that she's fully covered in all the right areas. Each year, she gets a little better at allowing herself to stand in the sun at her son's T-ball games.
Koskinen's son was young at the time she underwent treatment and surgery, but now at five years old, he has started asking questions about her scar and is more aware of her actions.
Madison McTevia, a child life specialist for the Patient and Family Support Services team at the Rogel Cancer Center, has helped Koskinen figure out how to talk to him about her experience.
"One thing I respect about Leah is that she wanted to be prepared to have open and honest conversations with her son, especially as he gets older," McTevia said. "So that's what we practiced — how to have age-appropriate conversations about Mom's diagnosis, so that he doesn't grow up afraid of the sun or fear that cancer is something he will catch."
And Koskinen is passing along all this knowledge to others as well, by working as a certified health and life coach for stay-at-home moms ("Helping others with their health and wellness really helps me because if I'm talking to other moms about organization and productivity and self-care, I need to be doing that for me, too," she said) and serving on the Rogel Cancer Center's Patient Family and Advisory Committee.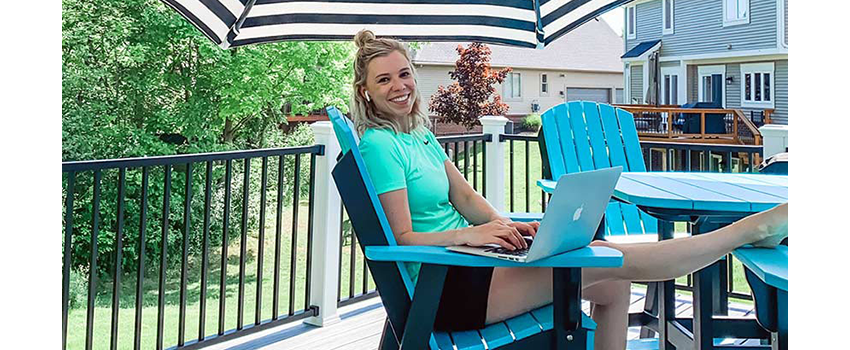 Koskinen smiles while working on her computer outside under an umbrella.
"I'm really passionate about getting the knowledge out there for young adults about how skin cancer is real," she said. "This could happen to you &mdsh; it doesn't matter that you're only 25."
"I want to use what happened to me for good," she added, "and because I feel so grateful to them, I want to give back to the University of Michigan specifically."
A new addition
On July 22, Koskinen will have a scheduled C-section.
Koskinen's doctors will then freeze the placenta to send to the Rogel Cancer Center, where Dossett and her colleagues will test the placenta for traces of melanoma, and all of Koskinen's cancer testing has been scheduled for as soon as possible after the baby is born, Dossett says.
Although Koskinen has tried her hardest to remain positive throughout her pregnancy, she is ready for the next phase.
"It's scary because this is supposed to be a safe place for the baby, and it is safe," she said. "But there is also a worry of what if I'm giving her something that is unhealthy, so I'm getting to the point where I want her to be out so we can confirm she's healthy, and I'm healthy, and we can enjoy the new addition."
Besides a hopefully healthy baby, Koskinen's biggest takeaway from this experience is that mothers should reach out for help.
"Being a mom in general, there's so many balls to juggle and then having a health scare, it's unreal how much is on your shoulders," she said. "My best advice is to talk to someone. Whether that's a therapist or a social worker or someone who has been through it, you need someone who you can share your honest thoughts with."
Protect the skin you're in
Skin cancer rates are on the rise at Rogel Cancer Center. "Melanoma is the most rapidly increasing cancer that we see," Dossett said, "partly because of more awareness and early skin care screening but also because of an increase in recreational sun exposure that wasn't present years ago."
To make sure your skin stays safe and sunspot-free, here are a few tips to follow:
Reapply sunscreen every 90 minutes throughout the day.
Invest in protective clothing that allows fewer ultraviolet rays to reach your skin and, as Koskinen explained, "Get comfortable with wearing hats."
Shade your outdoor spaces with large umbrellas or plant more trees.
Research the best sunscreens for protection (SPF 30+, lotions, gels, sprays all options if skin is covered thoroughly and reapplied as directed).
Wear makeup with SPF coverage.