Tips for Safe Grocery Shopping
by Ian Demsky
What's changed and what patients need to know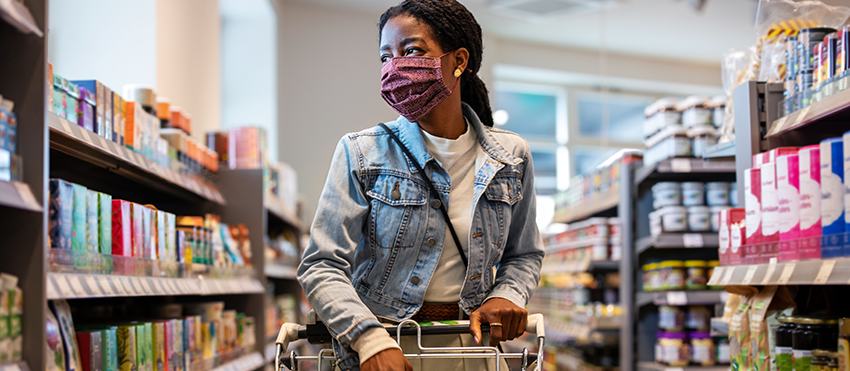 For people with cancer and cancer survivors — especially those whose immune systems are weakened from treatment mdash; buying healthy food during the pandemic has added additional challenges, not to mention stress.
Recommendations have evolved as the impacts of COVID-19 have continued into their second year.
Rogel Cancer Center dietitians stress the importance of eating a balanced, nutritious diet during and after treatment. Here are some best-bet tips for patients and caregivers.
Delegating
If you are a patient, ask a caregiver or a friend to go grocery shopping on your behalf if possible. The highest risk posed to people with cancer comes from potential airborne transmission of the virus. So, avoiding crowded markets is best.
Those who are homebound may also be eligible to receive meals through the Ann Arbor Meals on Wheels program (734-998-6686), or a similar program in your area.
Delivery/Pick up
Take advantage of home delivery or curbside pick-up options offered by some grocery stores. Many allow you to pay in advance and offer no-contact delivery options.
The risk of getting COVID-19 from food packaging is very low, according to the federal Centers for Disease Control and Prevention. There's no recommendation that you need to disinfect all the items you buy, but you should wash your hands after handling bags and putting groceries away.
Takeout
The risk of contracting COVID-19 from takeout food is also very low, the CDC says. Cut the risk further by washing your hands before and after handling takeout bags and containers, and transfer food onto your own dishware.
Mail-order meal kit companies, like Blue Apron and Hello Fresh, also offer healthy options with minimal preparation.
Beyond COVID-19, the American Cancer Society recommends those in treatment avoid take-out foods at higher risk for bacteria, such as deli meats and cheeses, and raw fruits and vegetables including salads and salsas. Look to your care team for guidance.
Shopping
If you can't avoid in-person shopping, wear a mask, try not to touch your face and wash your hands before and after. And bring sanitizing wipes to disinfect your shopping cart.
Other risk-reducing tips include: making a list to help you get in and out fast; shopping at farmer's markets and other open-air venues when the weather allows; shopping early, when stores are less crowded; and taking advantage of special store hours for people at higher risk.
Continue reading the Summer, 2021 issue of Thrive; or print the issue.
Get more shopping and nutrition tips:
For perspectives from cancer survivors, practical advice on living with cancer and expertise from our leading care professionals, sign up for the Thrive newsletter.