Spiritual Care Supports Patients and Families
contributed by Eric Olsen
Chaplains Shama Mehta and Bruce Paul go where patients need to go — emotionally, mentally and spiritually.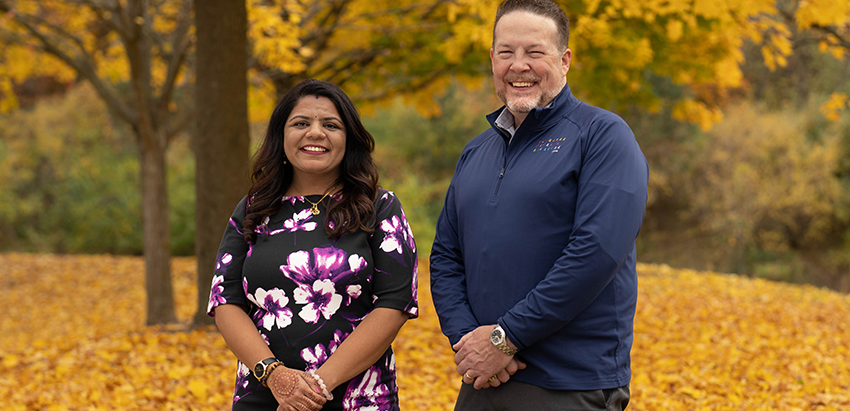 Photo credit: Erica Bass
When Bruce Paul meets a patient for the first time, he pulls up a stool and says, "Tell me about yourself." It's the beginning of a conversation about the person's struggles and strengths — and the resources they have, both internally and externally, to help them navigate the experience of cancer.
Paul and Shama Mehta, the Rogel Cancer Center chaplains, are trained to provide care for patients and their families through an interfaith lens, which allows them to help people of any spiritual persuasion. We sat down with Paul and Mehta to learn more about how they interact with patients, what separates patients with cancer from those with other health issues and the strategies they use to help people with advanced cancer.
What are your interactions with patients like?
Bruce Paul:

In our caregiving, we really sit and listen. We continue to let the patient tell us who they are and what's going on with them. We let the patient lead and find out through that listening experience.
Shama Mehta:

It's basically empathizing with what they're going through. I ask them to tell me more, tell me what it's like for you.
Even though you're dealing with this situation right now, your strengths have not left you. How can you use them? It could be spirituality; it could be religion. And when we're navigating spirituality, what we mean is that we're also looking at what is their life's meaning and purpose. But again, giving it back to them as something they can rely on while navigating what they're dealing with.
Sometimes, all you need to get through the tough moments of cancer treatment is a peaceful place for reflection or prayer. Michigan Medicine has several dedicated spaces for just that, including both nondenominational chapels and quiet rooms.
Room 2A215 at University Hospital. Access the chapel from the cancer center by taking the elevator to the second floor and making a left after Victors Way Cafe. The chapel will be on your left at the end of the hallway.
Room 2780 on the second floor of C.S. Mott Children's Hospital. The Helen and Mike Vlasic Family Chapel is right outside the Mott lobby, between Big Bird and the Taubman Center.
Room 001B on floor 2A and room 4141 on the fourth floor in the Cardiovascular Center. Take elevator 12 from the CVC's second floor (which connects to all the other hospitals, including the cancer center). The quiet rooms are directly to the right of the elevator on both 2A and four.
What types of issues often come up for people with cancer?
Mehta:

The aspect that differs slightly for patients with cancer, in my opinion, is at times the suddenness of the diagnosis that can create turmoil in one's life. How spiritual distress shows up in an individual with cancer is unique to who they are.
Paul:

Most everyone who gets a cancer diagnosis experiences thoughts about their own mortality. They start to look at life differently — with an urgency. What people want to do when they have limited time really pulls into focus what moves them spiritually, what's most important to them.
Strong emotions can often be a part of the conversation for those with advanced cancer. How do you help people work with these feelings?
Paul:

Really, identifying the emotions is key. Once we understand what they are feeling, then it's easier to start to discern why they are experiencing those emotions. I would say that patients with advanced cancer are often willing to go deeper into these areas quicker.
How do you approach end-of-life conversations with patients and their families?
Mehta:

When patients or families want to discuss death and dying, I stay with them in those moments to assess which aspect is bothering them the most. With a cancer diagnosis, I have noticed that a lot of the questions regarding end of life tend to be a concern with what happens to someone physically.
Paul:

I often simply ask how they are feeling about the prognosis and how they would like to best use whatever time they have. Are they afraid of something specific or something unknown? And I try to see if there is a ritual or activity that will be helpful in lessening the fear.
Why do you enjoy working with people who have cancer?
Mehta:

I really enjoy the relationships that we develop with patients and their families.
For example, I had a patient once who was in and out of the hospital quite a lot with her disease. I developed a relationship not only with the patient but also with the family. They were there alongside as we navigated this journey with her up to the very end, and even now the family are friends. They would reach out every once in a while and check in and ask for prayers. It was that kind of relationship that makes you figure out we are truly a part of the same world, and we have the same human experience.
Resources:
The Rogel chaplains launched a spiritually focused expressive writing group earlier this year. If you're interested in signing up for the spring 2023 group, email [email protected].
Continue reading the Fall, 2022 issue of Thrive