Healing Hands
You're invited to create art!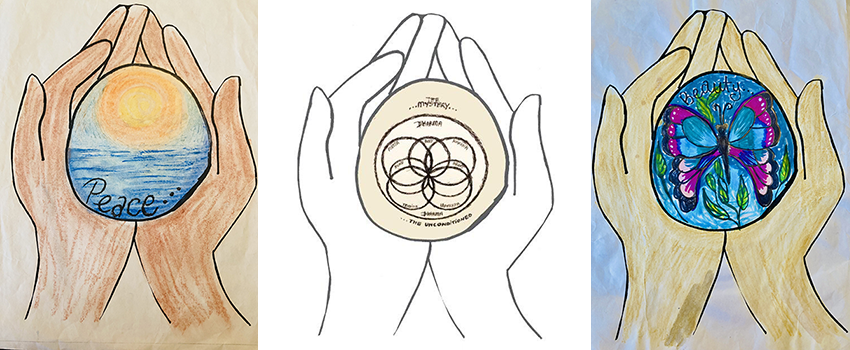 Self-care is important for both patients and health care professionals. With this in mind, the Patient & Family Support Services team launched this community art project called Healing Hands. This project will honor what patients and staff find personally "healing". Through this community project we will bring a range of images together to represent our collective ideas of what is "healing", creating an exhibition of shared ideas and images that will benefit us all!
Who can participate?
Patients, staff, family members, health care professionals and caregivers are invited to create drawings for us!
How to contribute an art piece
Download the Healing Hands stencil.
Get creative and color the hands; then fill the empty circle with your own symbols, colors and/or images that are healing to you.
Ideas to get you started:
Draw, color or collage within the circle,use colors, shapes, patterns, bedazzle, etc.
Use any materials!... pencils, markers, paint, collage,and words (but no names on the art, please!).
Show what healing means to YOU!
Once your drawing is completed, TAKE A PHOTOGRAPH of it with your phone. Try to use natural, even lighting, cropping the image close to the edge of the page.
Attach the photograph of your drawing to an email and send it to: [email protected].
NOTE: Your drawing will be part of the virtual and/or Voices Art Gallery exhibition sharing our cumulative healing art!
By submitting your image, you are giving permission for it to be included in our virtual and Voices Art Gallery. The image may also be used by Michigan Medicine Public Relations and Marketing units in social media, print or other media outlets for promotional, public relations or marketing purposes. All submitted images will remain anonymous.
Thanks for participating!
For more information, or to share with friends, download/print the Healing Hands Project booklet.