Emerging Leaders Council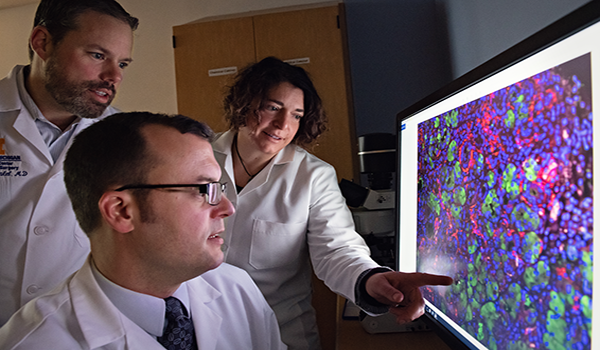 Emerging Leaders Council seeks to engage and develop the next generation of Rogel leaders
The Rogel Cancer Center's Emerging Leaders Council is comprised of early career faculty interested in becoming more involved in the cancer center. Members serve to:
advocate on behalf of early career Rogel Cancer Center faculty members
highlight promising new research opportunities, approaches and technologies likely to be impactful for all members
lead selected research program-focused as well as center-wide initiatives and activities
There are 15 council members. A typical term is 3 years.
Council members apply and are selected by the Senior Leadership Council. Additional opportunities to apply will be shared with members.
Council Member Roles and Responsibilities
The Council appoints a chair and vice chair(s) who will serve as part of the Rogel Executive Committee.
The Council meets regularly to identify high priority issues and opportunities of interest and importance to early career Rogel faculty members that should be brought to the attention to the Rogel Cancer Center leadership as well as to assist and support Rogel Cancer Center Senior and Research Program and Component leaders in developing and implementing program and center-wide initiatives and activities.
Council members are expected to participate regularly and actively in the full range of Rogel Cancer Center activities, including research program meetings and retreats, seminars and lectures, and education and training and outreach activities.
Benefits
Benefits of serving on the Rogel Emerging Leader Council include:
obtaining a deeper understanding of the Rogel Cancer Center's mission, vision, and strategies
providing strategic input to Rogel Cancer Center Leadership at various meetings and forums
having the opportunity to interact with internal and external leaders in cancer research
being listed on the Rogel Cancer website and promoted internally and externally
Support will be available for Emerging Leaders Council members to pursue selected leadership training activities.