Rebounding at 87 after CNS lymphoma
contributed by Margarita Bauzá
William Moldwin published a book, won awards and is making more plans for his future.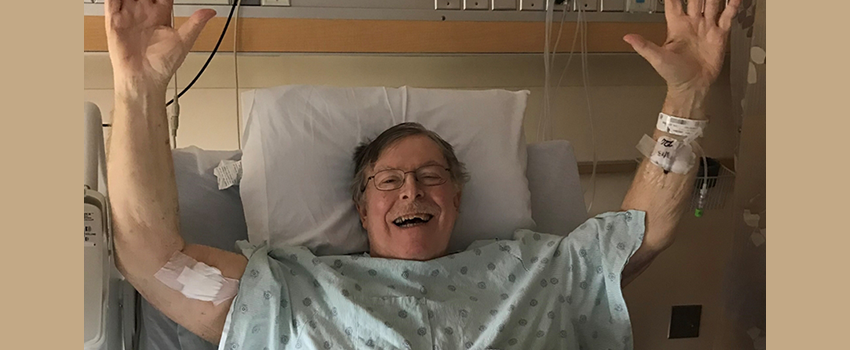 Bill Moldwin
Photos courtesy of J. Gustafson
As a neuro-oncologist, Yoshie Umemura's goal is to get patients back to the life they were living before they were diagnosed with cancer. For some patients, that might mean gardening or hiking.
For William Moldwin, 87, of Forester Township, it meant publishing a book, collecting a lifetime impact award (alongside U.S. senator Debbie Stabenow and real estate mogul Dan Gilbert), receiving the Spirit of Detroit Award from Detroit's City Council for his work securing health and mental health services for underserved Detroit communities, and planning his second book – an ode to the women who shaped his life.
Almost five years ago, Moldwin's primary care doctor sent him to a local emergency room after an episode of garbled speech. He underwent various tests for possible stroke, which included an MRI of his brain, which showed an abnormality that grew over the following weeks.
About a month after the initial speech problem, Jason Heth, a neurosurgeon at University of Michigan Health, did a biopsy of Moldwin's brain. He was diagnosed with primary CNS lymphoma, a rare non-Hodgkins Lymphoma in which cancer cells from lymph tissue form in the brain. Only 3-4% of brain tumors are a result of CNS Lymphoma.
"He's not like this"
Moldwin was "in pretty rough shape," Umemura said of when they first met. "He had an altered mental status. He was confused. His family kept saying 'he is not like this.'"
Moldwin first met Umemura, clinical assistant professor of neurology and division chief of neuro-oncology, three days after his brain surgery. As part of his treatment, he would also need intense chemotherapy and at his age, Umemura was concerned.
"When someone is in their 80s, you're always a little hesitant," Umemura said. "You wonder, can they tolerate the therapy?"
As it turned out, he had complications after his first round of chemotherapy.
"After one dose, I thought he might need dialysis," Umemura said. "His creatine numbers jumped, which indicated injury to his kidneys. His family was quite nervous. I was nervous. But eventually his kidneys ended up recovering on their own."
A low-dose approach
With the family and patient's understanding, Umemura changed Moldwin's treatment.
"Because his kidneys were still recovering, we decided to give him chemotherapy directly into his spinal fluid," Umemura said.
Moldwin had a reservoir installed into his skull and began receiving chemotherapy directly into his spinal fluid twice a week through that reservoir while waiting for his kidneys to recover.
"He would have blood work done when he came in," Umemura said. "If his numbers were good, we would admit him to give him chemotherapy right into his bloodstream. If they weren't, we'd treat his spinal fluid and send him home."
"Because his care was complicated, we saw him a lot," Umemura said. "And luckily, he had a good response to these treatments, and he began to mentally improve. That's when he started to tell us his life stories."
A rich and unique life
Moldwin's adventures reminded Umemura of the incredible stories of Forrest Gump, the character in the 1986 fiction novel of the same name and 1994 movie in which Tom Hanks plays Forrest Gump.
Moldwin, of Cleveland, was the first person in his family to attend college, enrolling at Ohio Wesleyan University on a wrestling scholarship and graduating in 1957 with degrees in math and engineering.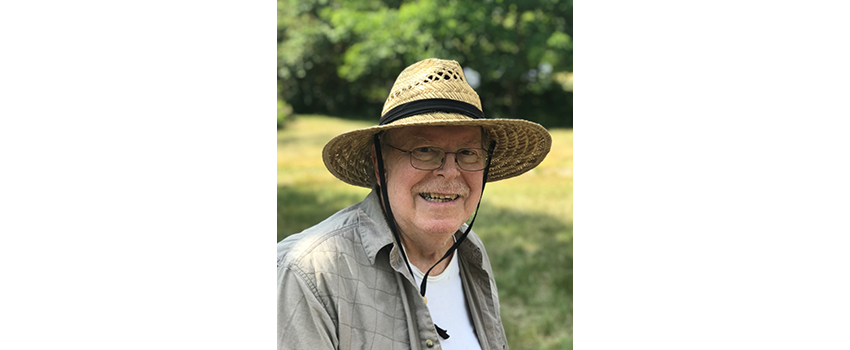 Bill Moldwin
Photos courtesy of J. Gustafson
He later obtained divinity degrees from the Lutheran School of Theology in Chicago, which led to a 40-year career as a Lutheran pastor in Michigan and Connecticut. While obtaining his divinity degrees, he met his wife Sally, who is originally from the Philippines and was herself working on a master's degree in religious education. The couple has been married 62 years. They are described by family members as civil rights veterans who marched alongside Martin Luther King Jr. in Detroit and in Washington D.C.
Moldwin's life as a pastor was influenced by experiences he had during his college summers, driving a moving line in Alaska, picking apples in Washington state and canning peas in a Minnesota factory.
"Working as a migrant opened my eyes to not only racism but to my identity as a white young man, and inevitably to asking the question 'what do I do with that?'," Moldwin said.
In the fields, Moldwin saw the neglect and lack of access in medical and mental health care. As a young pastor, he began to write grant proposals to help fund care facilities in the city of Detroit. He is credited with securing millions in grants from the federal government, private philanthropies and donors to fund organizations such as Southwest Solutions and Samaritas, which are still thriving.
As he worked to set up these facilities, Moldwin returned to school for an MBA so he could understand the ins and outs of grant writing and of administering the health care facilities he was running. One of his grants from the Ford Foundation led him to become the CEO of Southwest Community Mental Health (now Southwest Solutions), a request made by the funders.
Moldwin retired from being a pastor in 1999 and in 2000, he earned a builder's license and built a family home on Lake Huron in 2001. He and his wife have lived in this home for 21 years.
Recurrence and healing
As Moldwin's care continued in Ann Arbor, he continued sharing his stories with his doctor and the clinic team at the cancer center.
Despite complications, his cancer went into remission two months after starting treatment. Unfortunately, his cancer returned in less than six months.
"Probably because we couldn't give him a full-on treatment initially, he had an early recurrence," Umemura said. Moldwin received various forms of chemotherapy the following year as he also developed lymphoma in one of his eyes.
"We just decided to keep going," Umemura said. "He was tolerating the latest treatment regimen to keep the lymphoma at bay – referred to as maintenance therapy. We would normally have someone on this regimen for one or two years. For him, we did three years because we feared he would not tolerate an intensive treatment if the lymphoma returned."
By October 2022, Moldwin's cancer remained at bay without a recurrence and with input from the family and his physicians, a decision was made to take him off treatment.
A family affair
Moldwin's family was involved in every step of his care. His wife Sally slept in the chair next to his hospital bed every night.
And the couple encouraged their three adult children and spouses to ask questions, weigh in and be involved in doctors' visits, appointments and care.
Umemura welcomed the involvement and said it helped build trust among everyone.
"He allowed his family to ask all the questions and he trusted me 100 percent of the time, which was very generous," she added.
"He's an unusual patient in many ways, not because of what he had, but because of his life story," Umemura said. "What's most rewarding is to see your patient back to doing what he's always wanted to do. And in his case, he went back to gardening, writing a book, publishing the book and accepting major awards."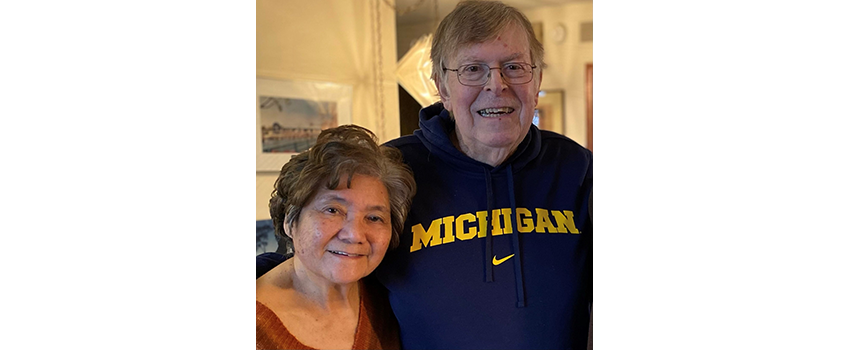 Bill Moldwin and his wife, Sally
Photos courtesy of J. Gustafson
Adventures after diagnosis
In May of this year, Moldwin, completed one of his projects. He published One Hundred Species and One Family Tree: My Love Song.
Moldwin grew interested in trees as a result of long walks he'd take in the woods while living in Connecticut.
When he retired, he began to study more about trees, receiving a master gardener certificate at Michigan State University and planting trees that thrive in Michigan. He currently has 101 species growing on his property: walnut trees, aspen trees, red oaks and Hungarian oaks, in honor of his parents.
"His book is very much like him," Umemura said. "Each chapter is a few pages titled with the name of a tree. And each chapter has anecdotes from his life."
Moldwin says he wrote his book for his three children and grandkids. He also wants to inspire others to walk in nature.
"Trees are fascinating," he said. "They lower your blood pressure and they clean the air. Some doctors recommend a daily 20-minute walk outside in the woods, even if you are in in a wheelchair or walker. It's therapy."
Moldwin is working on a second book — a book about the many role models he had in his life, many of them women: teachers, nuns and health care workers.
He's also taking time to be grateful for his treatment, his recovery, his family, his new life and "for Dr. Umemura and for the University of Michigan," he said.
Continue reading stories of survivorship and learn about Rogel Cancer Center's Patient Support Services