A neuroendocrine tumor couldn't stop this marathon runner
by Mary Clare Fischer
Robin Schroeder was determined to continue her active lifestyle, even after she underwent a Whipple, a taxing operation with a difficult recovery period.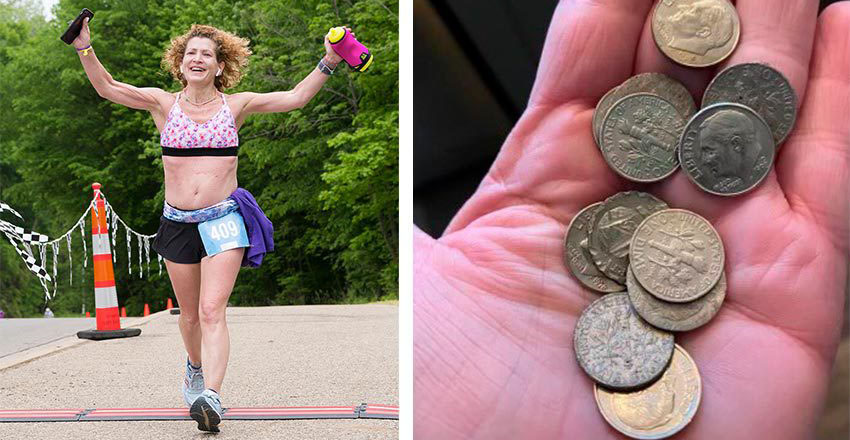 At mile 11 of the DeWitt Take a Breath for PH and Get Moving for MS half-marathon, Robin Schroeder wasn't sure she'd be able to keep running.
Her legs had gotten tight and sore as the typical late-stage fatigue set in, and she'd started walking in an effort to finish the race.
And then Schroeder recalled what she'd gone through exactly a year before: an operation to remove a tumor from her pancreas that's informally known as a Whipple procedure. It has a reputation among both health care providers and patients as a taxing surgery with a difficult recovery, to the point that those who have had Whipples done sometimes identify as "Whipple warriors" — or even "Whipple survivors."
"I was starting to hurt," she said, "and I said to myself, 'I've been through Whipple. A little bit of leg pain isn't going to slow me down.'"
With the memory to motivate her, Schroeder sped up — and ran the rest of the way.
The 54-year-old ended up placing first in her age division and notching her fourth best half-marathon time out of 14 races. What was most important to her, though, was that she'd achieved her goal of completing a half-marathon within a year of her surgery.
"I called my mom and I said, 'Mom, I did it,'" Schroeder said. "It was a monumental run for me."
She dedicated the race to her medical team at Michigan Medicine and the University of Michigan Rogel Cancer Center, whom she also called to let them know about her accomplishment.
"It was so great," said Clifford S. Cho, M.D., the C. Gardner Child Professor of Surgery in the division of hepatopancreatobiliary and advanced gastrointestinal surgery at Michigan Medicine. "It reminded me of all the conversations she and I had had before the operation — making the decision to do this, all the time we'd spent talking about her early recovery, and then her initial post-op visit and her six-month visit. Every single one of these is tough for different reasons, so it reminded me of how much she had gone through but also how well she had done.
"She had met her expectations, which is to say that she had exceeded mine."
The long route to diagnosis
But the road to the starting line of that race, let alone the finish, was neither short nor smooth.
Schroeder started having digestive issues in her late 20s, decades before her cancer diagnosis.
"Food always made me feel terrible," she said. "But I avoided telling anybody about it. I was embarrassed and somewhat ashamed. I didn't want to go to the doctor.
"As I've grown up, I've become a bigger proponent of facing the problem and just getting it fixed," she said. "But back then, I didn't even tell my mom."
Schroeder managed to ignore her symptoms for years, but in January 2020, she ended up in the emergency room with pain.
A CT scan revealed a spot on her pancreas, and she was diagnosed with chronic pancreatitis, or long-term inflammation of the pancreas. She says her family medicine doctor (unaffiliated with Michigan Medicine) shamed her for what he concluded must be heavy alcohol use.
"I walked out of there thinking to myself, 'How could I have done this much damage to my body?'" Schroeder says. "I was mortified."
But Schroeder knew she was health conscious. Although she drank alcohol, her consumption was moderate. She was fit enough to have run three marathons and more than 10 half-marathons in the past 15 years.
"I remember sitting in my office and saying, 'My pancreas deserves so much better,'" Schroeder says.
So she sought a second opinion.
Within a week of calling Michigan Medicine's division of gastroenterology and hepatology, Schroeder was seen by Megan Morsi, PA-C, a physician assistant who specializes in pancreatitis and pancreatic cancer.
"She was a self-referral, which we don't get too many of," Morsi said. "But whenever I see self-referrals, I think that this is a motivated patient who takes charge of their health care. I remember Robin as a patient with a lot of questions — a lot of good questions — who was very forward and assertive with her care, which not all patients are when we meet them for the first time."
"When I had a question for Dr. Cho or Megan Morsi, I got an immediate answer instead of, 'Let me get back to you,'" Schroeder said. "That approach was really settling for me, and it made me feel very good."
It took about a month to get Schroeder's testing done. Yet the results were inconclusive. Her scans revealed a large mass that looked like it could be a neuroendocrine tumor, a type of cancer that begins in endocrine, or hormone-producing, cells. But the providers couldn't confirm the diagnosis without surgery.
Schroeder was left with a choice: undergo an operation to remove the mass or wait three to six months, get another MRI and see if more evidence had emerged to help her providers figure out exactly what was growing in her pancreas.
"She was probably looking at a Whipple sometime in her life," Morsi said. "The options were: You can choose to operate now in 2020, which is not an easy decision for anyone, or you can choose to sit on this thing and see where it goes. Eventually a diagnosis comes to light because time is the most diagnostic tool we have."
Schroeder didn't know what to do. On the one hand, the surgery came with a lot of risks. On the other, she was healthy, and it would likely to be easier to recover from the operation if she underwent it at a younger age.
She went for a walk in her neighborhood in Petersburg, Michigan, about 30 miles south of Ann Arbor, to weigh the options.
About a mile into her soul searching, she looked down and saw a dime.
"My father passed away many years ago of a massive brain hemorrhage," Schroeder said. "He always sends me little signs of dimes. I've found many.
"When I found one that time, I thought that was my dad's way of saying, 'You need to have this done.'"
She called Cho and told him she wanted to have the surgery.
"Good," she recalled him saying.
"But if I was your daughter or your sister, what would you say?" she asked.
"I'd tell them the same thing," he said. "It's up to you."
The surgery and the recovery
Schroeder prepared for her Whipple like she was leaving the country.
She paid her bills for three months. She told her husband where to find important items in the house. She packed several weeks worth of clothes (and threw in a clay face mask to make sure she practiced self-care while in the hospital).
She vowed to "beat the curve" in terms of recovering from her operation but wanted to have her affairs in order in case complications slowed down her pace.
It was a realistic attitude. The complex surgery involves removing a tumor from the right side of the pancreas as well as parts of the structures that connect to that region — the small intestine, the stomach, the bile duct, the gallbladder, usually blood vessels — and then reattaching them once the tumor's out, all of which is difficult to pull off.
"It's a very busy part of the body anatomically," Cho said. "A bunch of things all converge at that location, and they're all kind of connected to each other. So a Whipple is really two operations: It's cutting all those pieces out and then trying to reconnect all of them back together again. And all of those reconnections can have problems.
"It has been shown that hospitals that do Whipples a lot, like Michigan Medicine, have better outcomes because it's a routine operation for them. Everyone from the nurses to the assistants have seen lots of different versions of it, so it's hard to surprise people," Cho added. "We have the infrastructure and the people to be able to be aggressive with it."
That experience paid off, and the surgery went well, with no complications. Turns out Schroeder did have a neuroendocrine tumor, and the mass was advanced enough that removing it at that time was the right call.
"Robin took the more aggressive route of surgery, and it wasn't wrong," Morsi said. "It wasn't wrong at all."
But the journey of recovery remained, and Cho had cautioned Schroeder that there was plenty of uncertainty left to navigate.
Schroeder, though, wasn't just physically capable of bouncing back. Her positive outlook and unceasing devotion to her recovery gave her an admirable mental strength. Before her surgery, she'd even taken a class through the online education platform Coursera titled, "The Science of Well-Being," to boost her ability to find happiness.
"I saw my recovery as my full-time job," she said. "There was no room for noise. There was no room for negative and no room for error."
She remembers getting out of bed the day after her surgery, when she was cleared to walk again, and shuffling determinedly around the surgical floor with a nurse in tow to monitor her. During times when she had to sit, she looked out a window that faced the front of the hospital and watched people jogging past, the envy palpable in her eyes and her heartbeat.
But Schroeder knew she had to start slow. So she continued to walk. Over the next two months, she would log more than 200 miles. There were days when she rested on a curb or a bench partway through, but she always got up again.
"Whipple is like training for a marathon," Schroeder said. "It's not a sprint. It's a slow, steady pace. You have to have patience with yourself and your body's ability to mend."
Eight weeks into recovery, Schroeder tried to run.
"It was not pretty," she said. "I held my sides because it just felt like everything wasn't attached, like I was all jumbled up."
"But then I just kept trying," she said. "I figured that if I didn't succeed today, maybe in two days, I could try again. And then one day, I was like, 'Oh, my gosh, I can do this.'"
About six months post-op, she came up with the idea to run a half-marathon. At that point, the temperature was dropping, so she traded running for Bikram yoga, a 90-minute form of yoga that's done in a room heated up to 105 degrees.
But, as soon as the snow melted, she was back out on the pavement, training.
"I didn't care if I crawled," Schroeder said. "I didn't care how I got there. I didn't care about my time. I just wanted to cross the finish line."
Lessons learned on the road to victory
And, on May 22, 2021, she did, tears welling in her eyes. On her arm was a list, written in Sharpie, of people to whom she dedicated individual miles, in addition to the Michigan Medicine team. The first mile was for her dad. The second-to-last mile was for her son. The last mile was for herself.
"Robin did this," Morsi said. "We were there to guide her, but she is the one who did the hard work. A few hours in the operating room with Dr. Cho is nothing compared to the dedication and hours she's spent on her own body and health."
Schroeder believes her positive mindset, her dedication to fitness and her willingness to change her diet (it's recommended that you eat in very specific ways after a Whipple) have been the keys to her success. And then there is, of course, her courage to find another provider who believed in her.
"I try to educate people to listen to their bodies and to get a patient advocate," she said. "If you don't know how to read your scans, how to look at your labs, how to ask questions from that, find someone who can. Because who knows where I would have been if I had listened to my doctor?"
"I've been blessed with a great medical team at Michigan Medicine," Schroeder added. "I can't thank them enough. My pancreas was in dire straits, and the whole thing is still chugging away, so I'm very grateful."
She's active in a Facebook group made up of Whipple warriors and those who are preparing for the surgery, and she says she wants her story to serve as an example, for all of these people and more, of the fulfilling life you can lead after such a serious operation.
"I wanted to encourage people that this is what is possible," Schroeder said. "And. it. is. possible."
Learn more about neuroendocrine tumors and cancer survivorship