Bladder Cancer Survivor Jeff Owens
contributed by Jeff Waraniak; originally appeared on the Michigan Medicine Health Blog
How expert craftsman Jeff Owens paved his way through bladder cancer and built a mini-bread baking empire.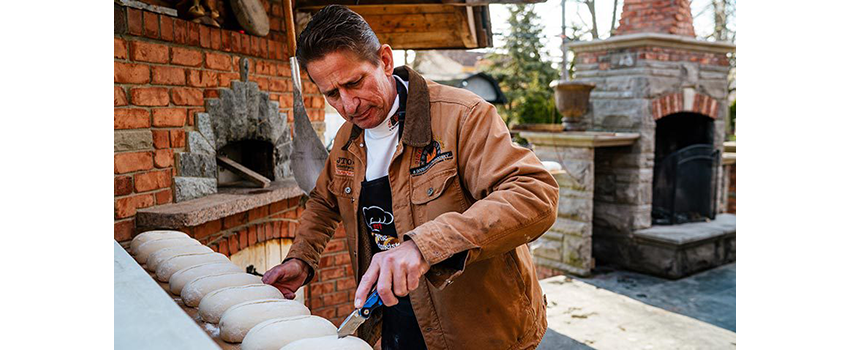 <div class="imagecaption" font-size:90%;"="">Several years after Jeff Owens underwent surgery for bladder cancer, he realized he had skills that might come in handy during the pandemic.
Credit: Nick Hagen
Driving down Poplar Street in Southeast Michigan's Downriver community, there's no mistaking which house was built by local bricklayer Jeff Owens.
The front porch is tucked under an archway outlined in elaborate stonework. Two spiraling red-brick chimneys pop out from the center of the house next to a cupola known as "the secret bat cave." And in the backyard next to Owens' garage and workshop, there's a blazing brick oven where he makes wood-fired pizzas when his two kids, Bella and Austin, host pizza parties for their friends.
It's the type of place that could only belong to a master craftsman with energy to spare. The type of guy who — during the first six months of the pandemic — earned the nickname "The Breadmeister," when he and his wife, Jennifer, and the kids spent 80 days straight baking over 7,000 loaves of bread for neighbors, hospitals, nursing homes, fire departments and other members of the community.
"It was a marathon," Owens said. "The oven never cooled down."
Today, the Owens house is as busy as ever, but five years ago, the compound came to an unexpected halt. In 2017, Owens received a diagnosis that required him to slow down—but not for very long.
Making decisions
In the fall of 2017, just shy of his 50th birthday, Owens started noticing something wasn't right when we went to the bathroom. Every 30 minutes, he felt like he had to pee. One day, he found a pink spot in his underwear. Concerned, he made an appointment with his urologist. Thinking the issue was kidney stones, Owens was shocked to receive a more alarming diagnosis: bladder cancer, the fourth most common cancer among men. His next step was to consider treatment options.
After visiting Cleveland Clinic and talking to providers at the Mayo Clinic Owens and his wife visited the nearby University of Michigan Rogel Cancer Center. There, they met Todd Morgan, M.D., chief of urologic oncology and Jack Lapides, M.D. Research Professor at Michigan Medicine, who assured them that his team could provide high-quality treatment and recovery options for Jeff's cancer.
Morgan explained that Owens and his family had some decisions to make. In one scenario, he could choose a less invasive procedure involving immunotherapy and a scope to remove any cancerous growths. Alternatively, he could undergo a radical cystectomy — a more invasive surgery that involves the removal of the bladder, prostate and typically several lymph nodes.
Given Owens' relatively young age and general fitness, Morgan recommended the cystectomy. If he chose that route, though, Morgan explained there was yet another decision regarding bladder reconstructive surgery. Option 1: A urostomy, in which urine drains through an opening in the abdomen and collects via an external pouch. Option 2: A neobladder, in which part of the small intestine is used to create a new bladder for the urine to pass through.
Jeff opted for the cystectomy and neobladder, taking on the risks associated with it, including erectile dysfunction and urinary incontinence. He knew that the need to self-catheterize, in case the neobladder didn't empty properly, would make for a challenging recovery. But a discussion he had with Dr. Morgan ultimately helped him choose.
"Todd said to me, 'Jeff, you've got two young kids," Owens said. "There's a 70-80% chance the cancer is going to come back within five years, and if it does, we can do what we did this time, except you'll need chemo and radiation and the odds won't be like they are now. Get the surgery. We can do this."
On Nov. 18, 2017, Owens underwent surgery for the cystectomy and neobladder. Thanks in large part to his age and can-do attitude, he was out of the hospital six days later, making for a speedy recovery.
"Some people do really well with the neobladder and other folks struggle," said LaShon Day, PA-C and Morgan's physician assistant. "Jeff had a few setbacks, but he managed them well and tackled them like a pro. I think that's just his personality. He rolls with it."
During treatment and future checkups, Owens often shared photos of his brickwork and masonry with both Day and Morgan, who was pleased to see Jeff recover so quickly.
"He did amazing," Morgan says. "It's a huge credit to him and his attitude and his health and his family and social support, but it also takes a bit of luck for a neobladder to work so incredibly well. When someone has as smooth a course as Jeff did, we are absolutely thrilled."
Back home with his wife and kids, Owens focused on recuperating. As part of the immediate recovery process, he learned to self-catheterize twice a day and got used to occasionally wearing an absorbent pad in his underwear—experiences he managed for a few days in the early stages of recovery and now helps coach other bladder cancer survivors through as a member of the Bladder Cancer Advocacy Network. He also helps them determine which type of bladder reconstructive surgery is right for them.
"Probably every three months somebody calls and leaves a message to say, 'Hey can I talk to you?'" Owens said.
In the meantime, while recovering, Owens also started baking bread in his home oven. By spring 2018, Jeff's life was mostly back to normal, albeit with a little more appreciation for friends, family and his community.
"I definitely became cognizant of the fact that you're not here forever," Owens said. "Your days might be limited."
Quarantine baking
Fast-forward a few winters later. Shortly after celebrating three years of being cancer-free, Owens was holed up at home like so many others during the first wave of the COVID-19 pandemic. Amid grocery store shortages, he'd been baking bread for a handful of friends and neighbors, which spurred an idea.
"We live in a small town," Owens said. "I thought, 'If I know this many people having a problem, why don't we just give bread away right in front of the house? I'll see how much I can bake.'"
Over the next few days, Owens churned out as many loaves as he could from his backyard brick oven. His stepmom, Carol, who lives next door, launched a Facebook page called Jeff "The Breadmeister" Owens. Over the next few weeks, the page attracted about 1,300 followers.
Neighbors lined up every day for months, and organizations ranging from nursing homes to hospitals started collecting bread for residents and staff members. Even the local garbage collectors grabbed some loaves during their weekly pickup.
At their peak, Jeff and his family churned out 108 loaves a day (always for free, though people could make a donation if they wished). They continued for a few months until Jeff's regular work as a mason picked up again later in 2020.
Today, Owens still bakes occasionally for police departments and other municipal groups. For the most part, though, while he's glad to have brought some levity to the community during COVID, he's mostly grateful for what the Breadmeister experience brought his two children, Bella and Austin.
"If I'd never had cancer, would the bread thing with COVID ever have happened?" Owens said. "I don't know. Maybe. That's partly my personality, But I didn't think twice about it because of cancer. I knew that every day I have is limited on what I can give to my kids."
Learn more about bladder cancer and survivorship
Bladder cancer and treatment at the Rogel Cancer Center
Bladder Cancer Survivor Lives Surrounded by Music
Women and Sexuality After Bladder Cancer
Physical Rehabilitation and Cancer Symptom Management