Swim Across America Benefits Cancer Research
contributed by Mary Clare Fischer
Each summer during Swim Across America's Motor City Mile event, swimmers paddle through the Detroit River to raise money for Rogel cancer research. By funding work that aims to solve cancer's most puzzling problems, they're really investing in their own future.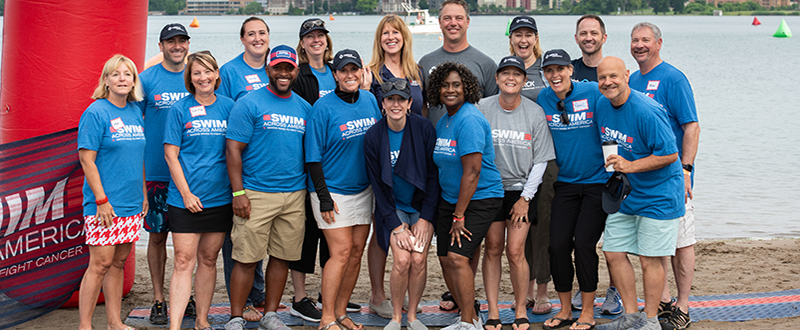 Courtesy: Swim Across America
Here, we outline how their dollars (and dolphin kicks) could lead to life-saving results.
Motor City Mile participants must raise $400 — or $200 if they're under 18 — by the date of the event (July 7 this year).
Many of the participants head to the Belle Isle Beach House in Detroit to swim distances ranging from half a mile to two miles. But the "SAA My Way" option also allows folks to choose an activity, like walking or cycling, that better fits their skills and schedules.
A Rogel researcher is chosen to receive a $50,000 grant funded by the donations. This kind of funding allows researchers to try out new ideas before applying for larger grants. The first recipient was Kyoung Eun Lee, who studies how low-oxygen conditions promote pancreatic cancer.
Once the researchers have completed their studies, their analyses are scrutinized by other scientists (a process called peer review) and then published, so providers and researchers worldwide can learn about the new developments and apply them to their own work. Lee is in the process of submitting the paper funded by her Swim Across America grant to journals.
Rogel specializes in translational research, which converts breakthrough findings into treatments and technology that can help patients. While Lee's research has not yet begun to transform patient care, that is her ultimate goal. "I have thought a lot about how my science can help improve survival for cancer patients," Lee says. "My father, who recovered from lung and prostate cancer, and the support from all of you, inspire me to spend every day pursuing the discovery of new therapeutics for cancer."
Register or donate: michmed.org/nxVRD
Continue reading the Spring, 2022 issue of Thrive. This article was updated June, 2023.