Advice for navigating cancer care during the pandemic
contributed by Nicole Fawcett
Consider an extra dose of patience and kindness as we navigate the omicron surge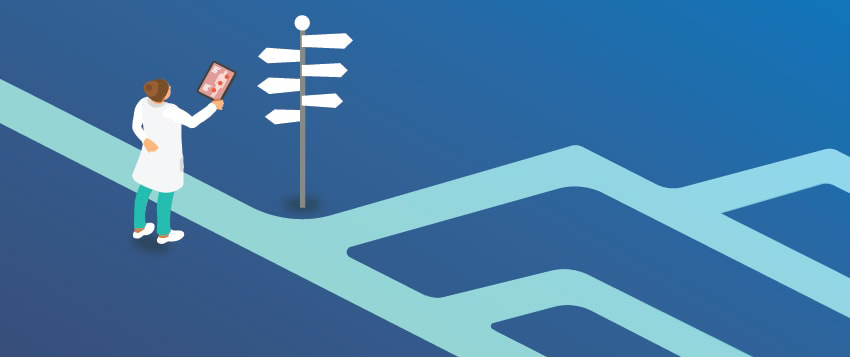 As the omicron variant causes a spike in COVID cases, the Rogel Cancer Center remains committed to providing the best cancer care for our patients. But we have a favor to ask: Pack a little extra kindness and patience as we navigate this latest surge together.
Here's what people going through cancer treatment need to know now:
If you have COVID, stay home
The screening questions we ask before you arrive exist to keep you and others safe. If you are experiencing any symptoms that are not a sign of your current care, call your care team before coming in for an appointment.
Virtual or phone visits may allow you to maintain a connection with your provider. If you do have COVID, your provider may recommend delaying a cancer treatment to allow you to recover better. Coming to Rogel can put yourself and others at risk.
We are here and we'll take care of you
If you're well, it's safe to come for your treatment. You're required to wear a medical grade mask and respond to our COVID screening (please be truthful!). The mask is for your protection as people with cancer are considered immune compromised.
Our visitor policy is changing in response to COVID cases in the region. Find the latest information about Michigan Medicine visitor guidelines.
You may hear that hospitals are canceling some elective procedures. Your provider will work with you to discuss the best options to treat your cancer and keep you safe. In some cases, it's OK to pause or delay treatment without impacting your cancer outcome. When cancer treatment is urgent, we will be there to provide it.
Our staff are impacted by COVID too
Staff have continued to show up every day since the pandemic began. More than 94% of our employees are fully vaccinated. But breakthrough cases are occurring. Between positive cases and the need to quarantine after exposure, our staffing levels have been significantly impacted.
We're moving medical assistants to clinics they don't typically staff to cover for absences. If you see an unfamiliar face, be kind.
If you're asked to reschedule an appointment — which we know can be frustrating and inconvenient — please have patience. You may also be asked to have a virtual visit to accommodate a provider's illness.
Cancer doesn't stop for COVID and neither will our care teams. Always be up front and honest with your provider. We'll work with you to navigate your treatment during these challenging times.