How to create a sense of purpose in difficult times
contributed by Anna Megdell
Finding Your Why: in response to tragedy, a U-M professor developed a toolset for creating a sense of purpose.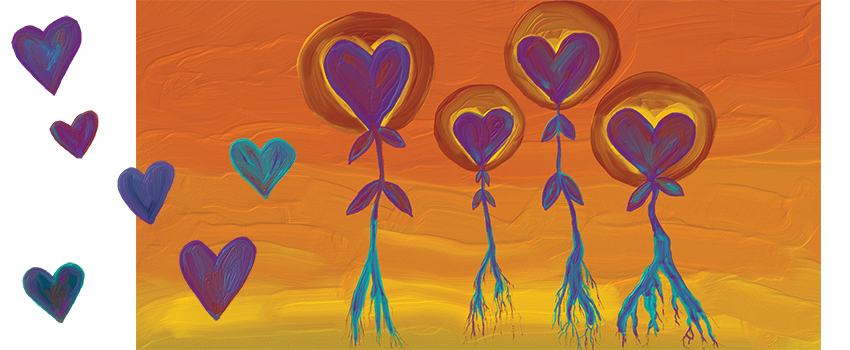 Illustration: Chelsie Field
When Victor Strecher's daughter passed away at the age of 19, the U-M public health professor navigated his immense grief by committing to teach his students as if they were his own children.
He developed new habits and behaviors that helped him show up for his students in the way he wanted, like walking to work, eating healthfully, meditating, getting more sleep and taking better care of himself.
"Doing things with other people in mind, not just for myself, added a sense of meaning and connection," says Strecher, Ph.D., who's also the director for innovation and social entrepreneurship. "That perspective gave me a new sense of purpose. It changed my life."
So much so that Strecher's work now focuses on the benefits of purpose, which he defines as a set of goals around the things that matter most in your life.
A strong sense of purpose helps maintain perspective, leads to a greater ability to change your own "emotional weather," as Strecher says, and can predict resilience and growth through difficult times. It also has real health benefits; studies show that when you control for age, race, gender, income, education, health status and other factors, people with strong purpose simply live longer.
But purpose isn't something you either have or you don't. Strecher says that a strong sense of purpose blooms from habits, behaviors and tools that can be created and developed. Here are three ways he suggests getting started:
#1: Make a list of what matters most. Strecher says the list can be made up of anything — family, friends, causes, pets, etc. What matters is that it's important to you. "The act of taking stock and writing down what you value most is the first step of cultivating a sense of purpose," Strecher says "Clearly knowing what you care about will help you create goals around how you want to live and spend your precious and finite life."
#2: Talk to yourself in the second person. Visualize looking down on yourself with a soft, kind gaze. Tell yourself different phrases that a therapist or friend might say if they were trying to offer support, like 'Youre under a lot of stress,' and 'I'm here to help you.' Be sure to use the second person, as if you're talking to yourself. Doing so allows you to become your own support system, which Strecher says helps you to see the bigger picture and cope with stress.
#3: Think about your legacy. Nobody lives forever. Strecher says that embracing this fact allows us to live in ways imbued with purpose. "Instead of mortality being something we wall away out of fear," he says, "incorporating a worldview that life is finite makes for a more vibrant, fuller life experience." Ask yourself, 'What do I want in the time I have left?' and &lsquo'How do I want to be remembered?' Your answers will help accomplish your goals.
Continue learning about Dr. Strecher and how to bring purpose into your life
Read the graphic novel Strecher wrote after his daughter died: On Purpose: Lessons in Life and Health from the Frog, the Dung Beetle, and Julia
Read his nonfiction follow-up: Life On Purpose: How Living For What Matters Most Changes Everything
Continue reading the Spring, 2022 issue of Thrive