Make a Gift to the Breast Cancer Program
Breast cancer impacts over 245,000 women in the United States; and is the most common cancer in women, except for skin cancers.
October is National Breast Cancer Awareness Month and Subaru of Ann Arbor and Toyota of Ann Arbor are partnering with the University of Michigan Health Rogel Cancer Center to GEAR UP FOR HOPE.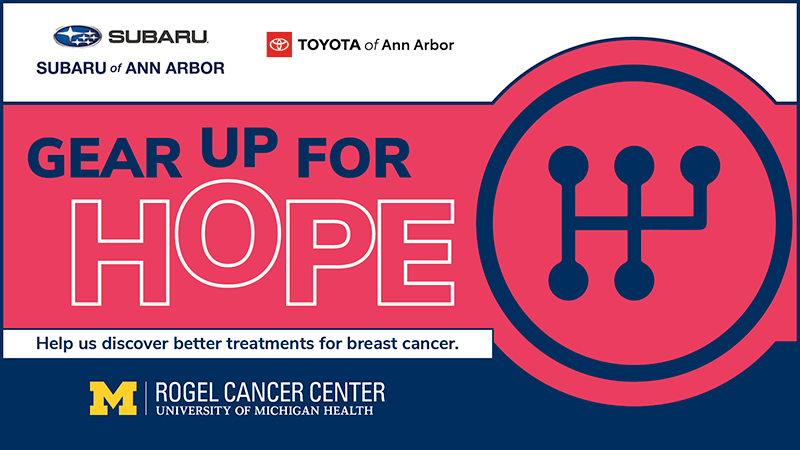 Join us in showing support for those impacted by breast cancer by donating today. Subaru of Ann Arbor and Toyota of Ann Arbor will generously match all donations dollar-for-dollar up to $20,000 during the month of October.
To make a gift, use our online form
Or, contact:
Amanda N. Smith, Associate Director of Development, Cancer Programs
University of Michigan Health System Office of Development
777 E. Eisenhower Pkwy., Suite 650
Ann Arbor, MI 48108

office: 734-647-2742 | [email protected]
Our breast cancer program brings together clinicians, researchers, geneticists and social scientists to help us develop new treatments (such as less-invasive surgery). Our program is also investigating new agents (such as hormonal and immunotherapy) to prevent recurrence. Those involved in breast cancer genetics are looking at the ways different patients respond to breast cancer treatment. Our social scientists are learning from breast cancer survivors about rehabilitation and how treatment impacts our patients both physically and psychologically.
Help Us Improve Breast Cancer Treatment
Use our online form to make a gift immediately. Other ways to help include:
The University of Michigan has 501(c)(3) non-profit tax exempt status; our federal tax ID number is 38-6006309. Learn more by contacting:
Amanda N. Smith, Associate Director of Development, Cancer Programs
University of Michigan Health System Office of Development
1000 Oakbrook Drive, Suite 100
Ann Arbor, MI | 48104

office: 734-647-2742 | [email protected]