A new chapter for DEIJ at Rogel
Media contact: Eric J. Olsen 734-764-2220 | Patients may contact Cancer AnswerLine™ 800-865-1125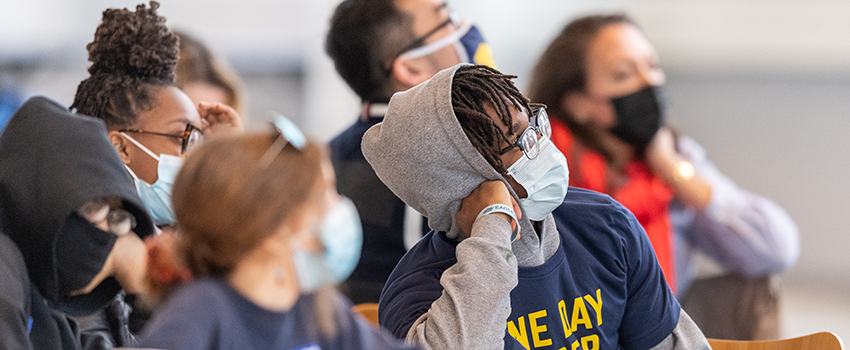 Diversity, equity, inclusion and justice are a crucial part of the Rogel Cancer Center's mission, from Community Outreach and Engagement programs addressing health care disparities to hiring processes and leadership development.
Now, diversity is a new requirement from the National Cancer Institute for its Cancer Center Support Grants, a chapter they refer to as the Plan to Enhance Diversity. In submitting the CCSG renewal last year, Rogel leadership provided a detailed outline of how we will support a diverse workforce.
Rogel was one of the first centers to submit a CCSG renewal with the new Plan to Enhance Diversity chapter. Initial feedback suggests it was well-received.
Reviewers noted that Rogel has a "comprehensive strategic plan to effectively leverage the robust Institutional commitment and infrastructure to enhance diversity, addressing key areas of workforce and trainee recruitment, retention and promotion, and established processes to measure and evaluate progress."
"We are fortunate at Rogel to be able to take advantage of the many DEI programs that both the university and Michigan Medicine offer. With that support, we've been able to focus on complementing that with programs and efforts specific to our faculty, staff, trainees and patients," says Julie C. Brabbs, M.B.A., chief administrative officer at Rogel.
As Rogel leaders developed a 2022-2027 strategic plan, DEIJ was built in as one of the six strategic pillars, with five goals:
Support a diverse workforce and inclusive work environment for all Rogel faculty and staff
Create a supportive, diverse and inclusive training experience for all Rogel trainees
Foster diversity in present and future Rogel leadership
Inform educational outreach programs focused on addressing cancer health disparities
Ensure equitable clinical research and patient care practices
Diversity, equity and inclusion initiatives are also laced throughout each of the five other pillars – research, training and education, community outreach, patient care and infrastructure support – ensuring all aspects of the Rogel mission reflect this commitment.
Here are some highlights of what Rogel is doing to promote diversity, equity, inclusion and justice for our faculty, staff, trainees, patients and community:
The DEIJ Steering Committee formed in 2019 has been replaced with a DEIJ Advisory Council, which has a broader scope and membership. The reconfigured DEIJ Advisory Council includes institutional leadership, faculty, staff, trainees, a member of our Community Advisory Board, and a patient.
Rogel's Emerging Leaders Council was developed to nurture the next generation of cancer center leaders. It reflects our commitment to diversity, with women comprising more than half of its representatives and one-third of members being underrepresented in the scientific workforce.
A new Rogel Health Equity Scholars program supports the generation and dissemination of high-impact research to improve outcomes in historically underserved populations. The first two recipients are Elena Stoffel, M.D., M.P.H., and Katrina Ellis, Ph.D., M.P.H., M.S.W.
The nine catchment area priority cancers focus on cancers that are highly prevalent throughout our state, many of which also have a noted health disparity. Research and programming support communities that have gaps in access, quality and affordable medical care.
Two trainee programs focus on supporting groups underrepresented in cancer research. Summer Healthcare Experience (SHE) in Oncology Program is aimed at Michigan high school student who have demonstrated a commitment to improving gender diversity in medicine. Pathways to Careers in Cancer Care & Research Undergraduate Fellowship is available to undergraduate students from public universities throughout Michigan, with a focus on people from backgrounds traditionally underrepresented in medicine and science.