Leiomyosarcoma LMS SPORE
Our SPORE grant entitled Genetics and Genomics of Leiomyosarcoma (LMS): Improved understanding of cancer biology and new approaches to diagnosis and treatment, received a fundable score following revisions to the first submission.
This SPORE brings together a stellar team of experts who have been effectively working together over the past 4 years despite spanning institutions across the US, Canada and Australia. We submitted this grant proposal from the University of Michigan/Rogel Cancer Center. Funding began July 1, 2022. The Multi-Principal Investigators for this SPORE are Scott Schuetze, M.D., Ph.D. (Clinical Professor of Medicine) and Jonathan Fletcher, M.D. (Associate Professor, Harvard Medical School, Pathology).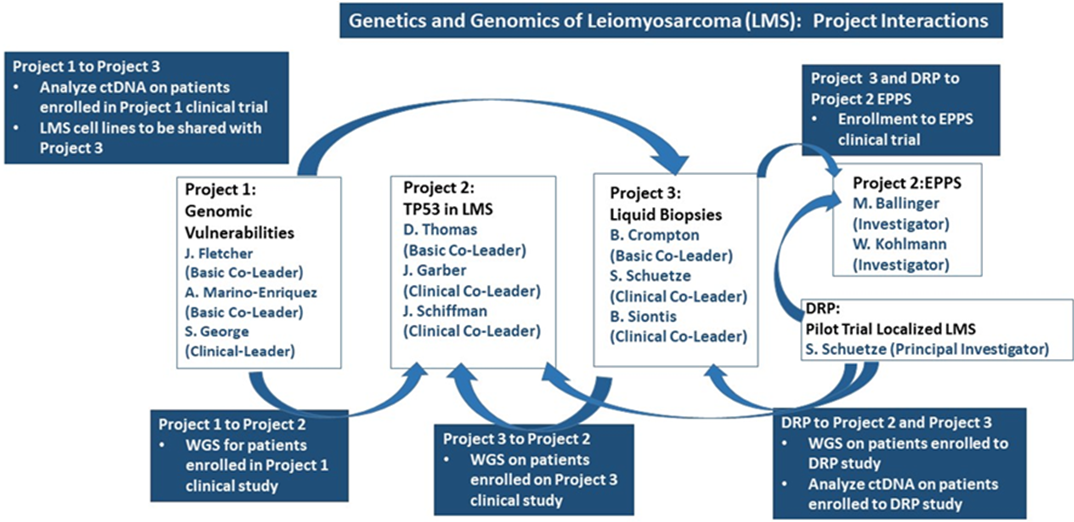 Leiomyosarcoma is a rare cancer. The estimated annual occurrence rate is 1700 new patients. We recognized that to effectively study a rare cancer we had to include several outstanding cancer centers: University of Toronto, The Ohio State University, Mayo Clinic, Huntsman Cancer Institute, Dana-Farber Cancer Institute/Brigham and Women's Hospital at Harvard, Memorial Sloan-Kettering Cancer Center, Cold Spring Harbor National Laboratory, the Garvan Institute of Medical Research in Australia, Weill Cornell Medical College and the University of Michigan. We have been most fortunate, benefitting from extraordinary private philanthropy that provided significant funding for the past 4 years which supported the establishment of our three projects and its leadership. Rigorous preliminary data resulted including identification of a new target, DNA-PK repairing DNA damage; identification of an effective new agent (peposertib); development of two novel biomarkers (ct-DNA measuring fragment of LMS DNA and modern radiomics predicting response to treatment based on baseline tumor characteristics including tumor volume and density). A unique feature is the remarkable integration of the three projects (Figure 1).
Our goal is to improve the knowledge regarding leiomyosarcoma (LMS) genetics, biology, and therapeutic approaches to rationally develop novel and more effective therapies including combinations of different agents targeting different pathways to exploit unique vulnerabilities. Our program includes 3 projects, 3 cores (administrative core, biospecimen and data analysis) and 2 programs (Career Enhancement and Developmental Research). In order to achieve our goals, we have established several important collaborations as noted in Figure 2.
Our leadership is reflected in the assembly of a dynamic and highly qualified team of investigators with extensive expertise and experience that has laid the foundation for this Program with remarkable successes funded by philanthropic sources. The institutional support by the involved institutions is strong with sizeable commitments from the Dana-Farber Cancer Institute and the University of Michigan, The Ohio State University, and the Mayo Clinic Cancer Center. The Biospecimen Core is well integrated into the infrastructure of the Biopathology Center in the Abigail Wexner Research Institute at Nationwide Children's Hospital and augmented by the outstanding experience of Nilsa Ramirez, MD in biobanking and Jason Hornick, MD, PhD in sarcoma pathology that will greatly enhance the research efforts of the SPORE. The Data Analysis core is led by three renown experts: Veera Baladandayuthapani, PhD, head of Biostatistics at Rogel Cancer Center, Karla Ballman, PhD, head of Biostatistics at Weil Cornell Medical school and Ben Haibe-Kains, Canadian Professor of Pharmacogenomics from the University of Toronto.
Scientific Collaborations are notable with well-established partnerships like the Australia and New Zealand Sarcoma Association, Li-Fraumeni Syndrome Association, International Sarcoma Kindred Study, EDISYN, NCI Cancer Therapy Evaluation Program and the pharmaceutical company EMD Serono (Figure 3). Rogel Cancer Center will also house another new SPORE led by Ted Lawrence and Meredith Morgan from our Department of Radiation Oncology that explores DNA damage repair inhibition along with cytotoxic therapies in localized pancreas cancer. Our two SPORES agreed to meet quarterly to exchange information and extend collaborations. Such collaboration of SPORES within a cancer center is unique.
The Developmental Research Program is well designed to identify and support novel projects focused on translational research related to leiomyosarcoma. The Career Enhancement Program is outstanding with clearly delineated processes for solicitation and selection of awardees from a diverse background that guarantee the successful transition into translational research careers with strong mentoring. Our plan to partner with institutional based initiatives focused on diversity, equity, and inclusion is led by Steven Robinson from Mayo Clinic. Dr. Robinson grew up in Jamaica and attended medical school there. He is recipient of the Harold Amos career scholar award. The shared resource cores are uniformly strong with clearly delineated services and are highly integrated into the support structure of the respective institution to enhance the translation of novel insights into the pathogenesis of LMS into more effective treatment options with tangible benefits for patients with LMS and related disorders, including other soft tissue sarcoma subtypes. Lessons learned from LMS; a rare cancer will be explored in other genetically similar subtypes including dedifferentiated liposarcoma, malignant peripheral nerve sheath tumors, myxofibrosarcoma, and pleomorphic undifferentiated sarcoma. A collaboration among the cancer genetic programs at DFCI and Michigan uncovered that 13% of LMS patients have germline TP53 mutation the hallmark of Li Fraumeni Syndrome. Two other sarcomas are common in LFS: rhabdomyosarcoma and osteosarcoma.