Judith Tam ALK Lung Cancer Research Initiative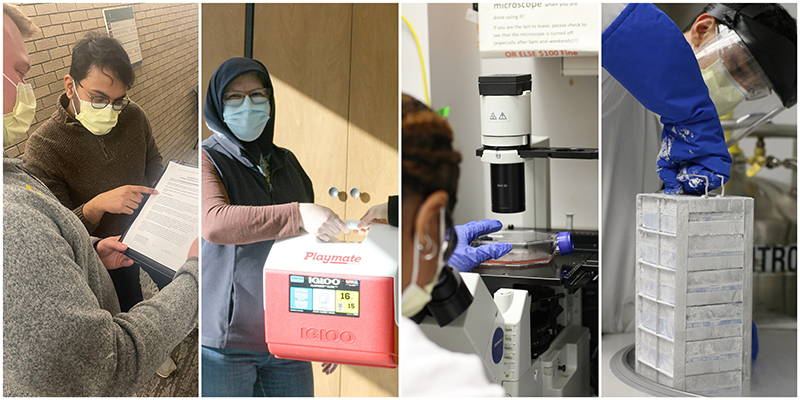 A team science, collaborative program to accelerate discoveries for patients
spanning 4 schools, 7 departments
The Judith Tam ALK Lung Cancer Research Initiative within the Michigan Medicine's Rogel Cancer Center is working toward finding the necessary treatment and solutions patients with non-small cell lung cancer need to not only survive their diagnosis, but to live a full and robust life.
Leading the World
While our primary goal is to efficiently produce quality results, Dr. Sofia Merajver plans for the U-M Anaplastic Lymphoma Kinase (ALK) Initiative to become an epicenter of ALK research and care with national and international collaborations. We aim to set a precedent for what has shown promise and what research remains to be done.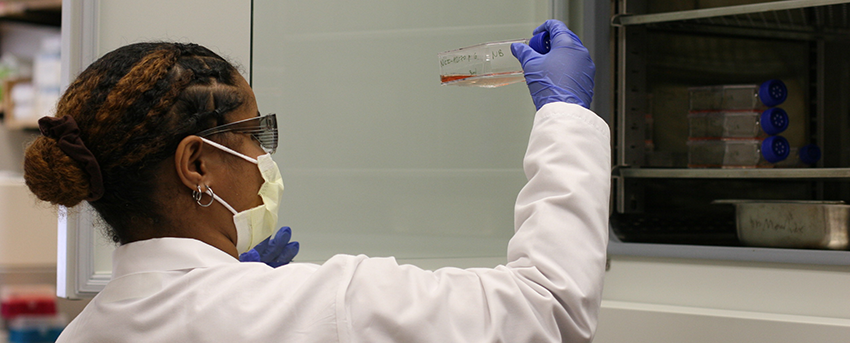 With U-M leading the charge in non-small cell lung cancer, patients from across the world understand the urgency to participate in one of the most hopeful ALK+ research programs to date. Because of this initiative, our researchers are able to work with live cancer samples from operating rooms here at the Rogel Cancer Center and around the world. Our dynamic lab exceeds standard procedures and tests more than 30 new drugs and drug combinations to not only understand treatment mechanisms, but also scale success and identify utilization discrepancies across diverse populations. This provides a rich opportunity for treatment beyond any currently published science. The door is now open for our team to single out which therapies are most effective, use these findings to direct patient care, and communicate those discoveries to the rest of the world.
Looking to the Future
Since the execution of the Judith Tam ALK Lung Cancer Research Initiative in 2021 we have achieved more progress in ALK+ lung cancer research than in the previous 50 years. Together, we have focused the world on finding a cure and effective treatment options for ALK+ lung cancer and have become a source of knowledge and guidance for other institutions and research centers. We are working with the utmost urgency and precision to uncover the cure for this aggressive disease, and we look forward to sharing our world-changing discoveries with you.
"The University of Michigan Judith Tam ALK Lung Cancer Research Initiative has assembled a dedicated team of researchers and clinicians composed of seasoned cancer authorities and rising stars. Their mission toward 'providing utility for ALK patients now' is unique in its collaborative approach toward other academic and research institutions, the ALK Positive NSCLC patient community, and toward pharmaceutical and biotech company allies. The team is laser focused on testing patients' tissue samples against a range of drugs, developing research models to determine the earliest causes of ALK cancer, and experimenting with new drugs and drug combinations in novel ways. As an ALK lung cancer patient and advocate member of the U-M ALK Initiative Scientific Advisory Board, I am continually optimistic that the efforts of these fine people will soon yield life extending treatments for many patients' cancer, and perhaps even my own."
Jeffrey M. Sturm, Member Board of Directors, ALK Positive, Inc.
Advisory Board, U-M ALK Lung Cancer Research Initiative
Eight-year ALK NSCLC survivor
Continue learning about the Judith Tam ALK Lung Cancer Research Initiative:
FOR COLLABORATORS AND CLINICIANS