Breast Cancer Research News
The latest in breast cancer research, treatment options, risk assessment, survivorship and more.
Yearly Mammograms Linked to Less Advanced Breast Cancer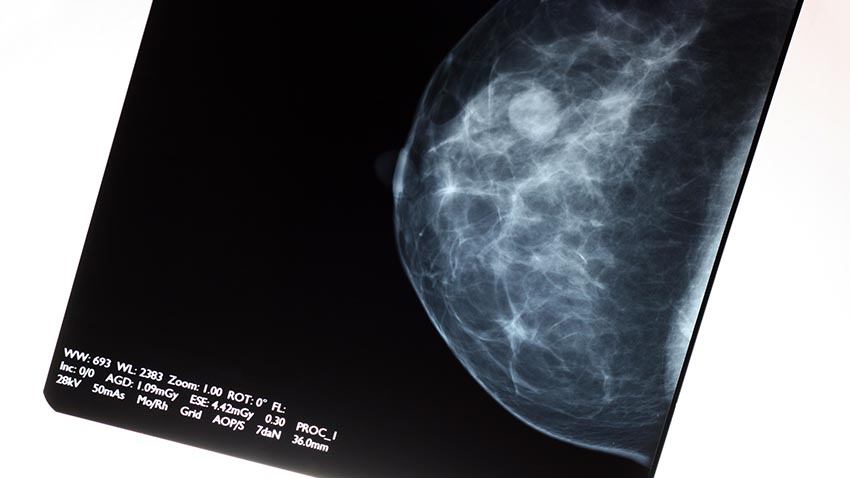 A new retrospective study addresses the question of how often to screen for breast cancer, suggesting benefits to yearly screening.
How often should women get a mammogram? A new study makes a case for getting screened every year instead of every other year.
Women diagnosed with breast cancer after receiving yearly mammograms had smaller tumors and less-advanced disease than women who had mammograms every other year, researchers from the University of Michigan Rogel Cancer Center found.
The researchers reviewed breast cancer patient records and identified 232 women who were diagnosed between ages 40-84, the age range for which mammography is recommended. Most women, 86%, had annual mammograms, while 14% had a mammogram every other year.
"Our study found that screening mammography performed once a year resulted in less advance stage disease in patients diagnosed with breast cancer," says study author Sarah Moorman, M.D., a radiology resident at Michigan Medicine. "These results may help women make informed decisions about the frequency of breast cancer screening."
Moorman will present the study results Dec. 4 at the Radiological Society of North America Annual Meeting.
While the value of mammography in detecting breast cancer is widely accepted among professional societies and government agencies, there's disagreement about how frequently women should be screened.
"Recommendations for frequency of screening mammography remain variable among professional organizations. This data suggests screening mammography performed at less than annual frequency may result in increased morbidity for women diagnosed with breast cancer," says study author Akshat C. Pujara, M.D., assistant professor of radiology at Michigan Medicine.
In this study, those who had an annual screening had significantly lower incidence of advanced stage disease and significantly smaller tumors compared to those who had biennial mammograms, the researchers found. There were also fewer incidences of cancer occurring between screening mammograms.
Annual screenings were also tied to trends showing less frequent use of treatments such as removal of lymph nodes or chemotherapy, compared to biennial screening. The findings held true when researchers looked only at post-menopausal women.
"Mammography is one of the few screening tools that has been proven to save lives," says study author Mark Helvie, M.D., Trygve O. Gabrielsen Collegiate Professor of Radiology and medical director of cancer center radiology at Michigan Medicine. "This study confirms the benefit of more frequent annual screening."
Personalizing Treatment of Triple-Negative Breast Cancer Shows Promise in Cell Lines
Looking beyond DNA mutations to a combination of molecular features could help determine the best drug combinations for each patient.
Triple-negative breast cancer is an aggressive cancer, one that's likely to recur and to metastasize.
It's also quite diverse at the molecular level, and doctors currently don't have a good method for determining which drugs are likely to work against each patient's unique cancer.
Sometimes a drug will work well against a triple-negative breast cancer tumor that exhibits a particular DNA mutation, only to fail against others with the exact same mutation.
But a group of researchers at the University of Michigan Rogel Cancer Center is laying the foundations for a new, "multi-omic" approach that could help determine the drugs to which a particular triple-negative tumor will be most likely to respond based on the totality of its molecular features.
Continue reading about triple-negative breast cancer.
Implantable cancer traps could provide earlier diagnosis and help monitor treatment
Synthetic scaffolding could detect multiple types of cancers before they start to spread.
Invasive procedures to biopsy tissue from cancer-tainted organs could be replaced by simply taking samples from a tiny "decoy" implanted just beneath the skin, University of Michigan researchers have demonstrated in mice.
These devices have a knack for attracting cancer cells traveling through the body. In fact, they can even pick up signs that cancer is preparing to spread, before cancer cells arrive.
The ease of access would also allow doctors to monitor the effectiveness of cancer treatments closer to real time.
Continue reading about implantable cancer traps.
Patient cancer cells reliably grow on new 3D scaffold, showing promise for precision medicine
A new 3D structure for growing cell cultures could enable doctors to test medications on model tumors grown from a patient's own cells, according to results from a team of engineers and cancer researchers at the University of Michigan. Unlike previous devices, the new structure is made from protein fibers that cells know how to modify.
"We can potentially use the cultures to do things like drug testing or single cell analysis, which may help us identify the best treatments for a patient's cancer," said Gary Luker, a professor of radiology at U-M.
Continue reading about 3D scaffold.
Read more news articles about breast cancer research at the Rogel Cancer Center