Program gives undergrads a 'pathway' to cancer careers
Media contact: Nicole Fawcett, 734-764-2220 |  Patients may contact Cancer AnswerLine™ 800-865-1125
A 2-week summer program offers opportunity to students beyond U-M's Ann Arbor campus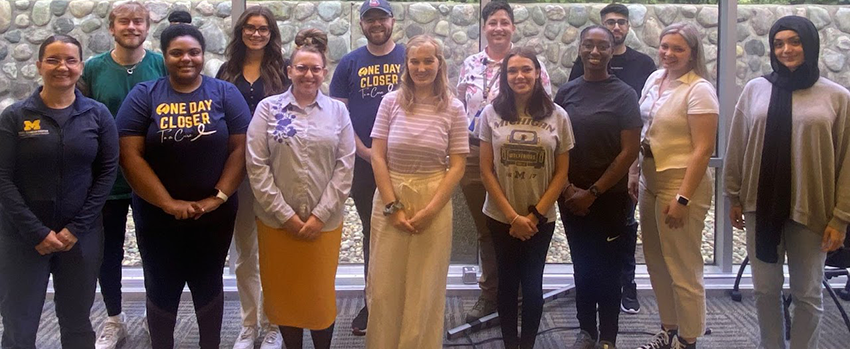 What does it look like to work in cancer research? For two weeks this summer, 20 undergraduate students from public universities across the state will find out.
The Rogel Cancer Center's Pathways Undergraduate Fellowship program launched in 2022 to fill a gap in training programs that left out undergraduate students from across Michigan. In contrast to the popular and highly competitive Cancer Research Summer Internship Program (CaRSIP), Pathways is aimed at students from Michigan universities excluding U-M's Ann Arbor campus. It's for students who might have some interest in careers in science or cancer but who aren't fully committed.
"A lot of these students don't have access to the type of research environment that happens at a tier-one school like U-M. So when they apply for a program like CaRSIP, they don't have the experience. We are providing them with a two-week course to see what it's like. The goal is to give these students a foot in the door to the Ann Arbor campus," said Elise Pfaltzgraff, Ph.D., educational coordinator for Rogel's Training, Education and Career Development program.
Recruitment outreach focused on students with backgrounds traditionally underrepresented in medicine and science and students from schools across the state that don't have strong research programs. The goal was to benefit the students while also fostering more representation in the cancer field.
"We want to reach people who don't have all the opportunities that are here at U-M. At the same time, these students are in our catchment area, whether they were born there or just going to school there. They are part of their school's larger community and can spread the mission of Rogel and help us with our research," said Sarah Hawley, Ph.D., MPH, associate director of TrEC.
The two-week virtual program consists of presentations from Rogel program leaders, faculty, trainees and staff who outline the different components that make up the cancer center's research initiatives. Presenters also shared their career trajectory, walking through how they got where they are today.
"One of the big takeaways for students was that nobody presenting to the group was doing what they thought they were going to be doing when they were a sophomore or junior in college. For these students who are not yet hyper-focused on cancer careers, what we heard was some relief. We gave them a better understanding of what cancer research is broadly, everything from population sciences to mouse models to clinical care – which doesn't always mean an M.D. It was reassuring: They don't have to know their path right now but can find their way," Hawley said.
The program is deeply rooted in honoring diversity and fostering inclusion. The application expresses Rogel's commitment to diversity, equity and inclusion, then applicants are asked to submit a commitment to diversity statement. They are asked to highlight anything in their background, interest or experience that shows their commitment to or awareness of issues of inequity in education and health care. The team created a rubric to account for responses, giving weight for lived experience, participating in volunteer programs and expressing awareness that inequity exists in education or health care.
"We can't directly ask questions about their background. This is how we have approached it in a way that acknowledges anyone's experience but still puts importance on this overall environment and an awareness that we aren't all on an equal playing field in life," Pfaltzgraff said.
The program also features training in unconscious bias. TrEC has been working this training into many of their programs to emphasize how equity is an important goal for Rogel.
"We're trying to get unconscious bias into the early end of the training spectrum so that hopefully helps us all be more transparent about our communications," Hawley said.
Other sessions focus on health care disparities in Michigan and Rogel's outreach programs that are aimed at improving access to cancer screening and care.
To tie together the learning modules with a real-life example, Pathways students consult on a Rogel research program. Last year, they advised the MI-CARES team, which was preparing to launch their statewide study of the impact of environmental exposures on cancer risk. They seek to enroll at least 100,000 Michiganders, with an emphasis on those from environmental injustice hotspots.
Students were asked to recommend opportunities for recruitment in their communities. Several of the suggestions, from Instagram accounts to radio stations to local bulletin boards, have been taken up by the MI-CARES team.
Hawley said post-program assessments from students were "through the roof positive." The program quickly yielded results. From the first cohort, one student is joining U-M's cancer biology Ph.D. program in the fall and another will start in a similar program at Tulane. One student reported applying to medical schools and highlighting Pathways in their application.
"This is about growing people's interest in going into cancer care or research," Hawley said.
This summer's program begins June 19.