Head and Neck Cancer Research
The latest in head and neck cancer research, treatment options, risk assessment, survivorship and more.
Predicting Complications After Larynx Cancer Surgery
When the surgical wound doesn't heal right, it can send some patients back to the operating room. A new technique tested at U-M could help identify which patients are at highest risk.
A technique that illuminates blood flow during surgery predicted which head and neck cancer patients were likely to have issues with wound healing. It could enable surgeons to make adjustments during surgery or recovery to improve outcomes.
A team of surgeons at the University of Michigan Rogel Cancer Center found the approach so successful in a clinical trial that they closed the study early.
Most people with larynx cancer will have radiation and chemotherapy. But about one-third of the time, the cancer will return or will prove resistant, leaving surgery as the next option.
At this point, tissue damage from the radiation adds challenges to the operation. When the surgeon closes the wound, damaged tissue can interfere. For about 40% of patients, this will lead to a pharyngocutaneous fistula, a hole in the neck where saliva can leak out. It can cause bleeding or infections, keeping patients in the hospital longer, and in 10% of cases sending them back to the operating room to fix it.
"Radiation damage is something you can't always see. There have been very few examples in the literature that would explain or predict who's going to have a complication," says Matthew E. Spector, M.D., assistant professor of otolaryngology-head and neck surgery at Michigan Medicine. Spector is the senior author on a paper published earlier this year in Annals of Surgical Oncology.
Researchers enrolled 41 patients who were undergoing laryngectomy after radiation. After removing the tumor but before closing the throat, anesthesiologists gave the patients an intravenous injection of a type of medical dye, indocyanine green. The dye circulates within about 40 seconds. Surgeons then use laser angiography, which illuminates the dye, allowing them to observe blood flow.
The results were clear-cut: patients with lower blood flow had a significantly higher risk of developing a fistula, whereas patients with high blood flow had a very low risk of wound complications.
Knowing this, Spector suggests a few possible interventions. One could be cutting out a wider margin of tissue to get a cleaner, healthier edge. Another possibility is to keep high-risk patients in the hospital longer, while sending the low-risk patients home more quickly.
The laser angiography approach would be straightforward to implement in many setting. It's already used by other surgeons, including in breast reconstruction, so many hospitals already own the equipment. The technique has little impact on patients because it can be administered so quickly while they are still under anesthesia. Reactions to the indocyanine are minimal.
Researchers are developing a randomized clinical trial to assess whether cutting back more tissue leads to fewer fistulas in the high-risk group.
"We need to find an intervention that can lower this risk," Spector says.
Learn more about cancer research at the Rogel Cancer Center. Read our annual publication Illuminate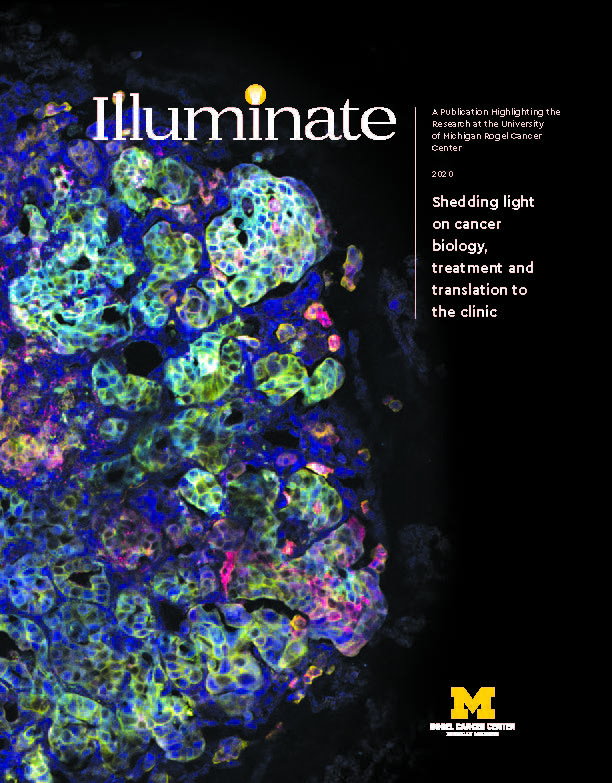 Immune Cell Biomarker Predicts Better Outcome in Head and Neck Cancer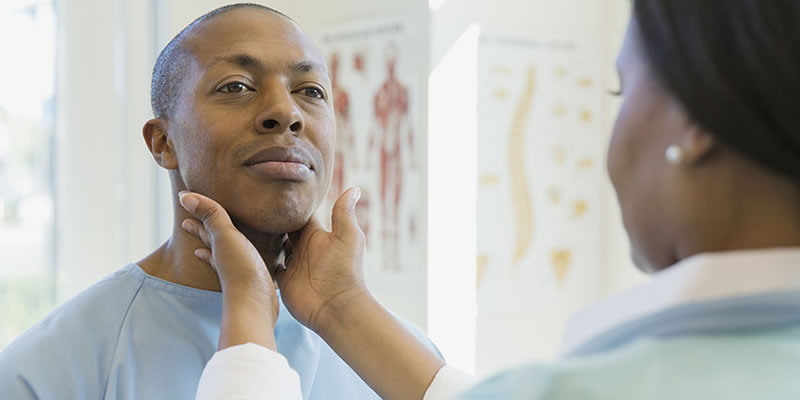 University of Michigan Researchers find infiltrating lymphocytes tie to survival in patients with recurrent larynx cancer; findings suggest super-boosting the immune system before additional treatment
For some patients with larynx cancer, the disease persists or recurs after surgery, radiation and chemotherapy. Additional surgery often results in poor survival. Immunotherapy treatments can work sometimes, but which patients should receive the treatment before additional surgery?
Now, researchers at the University of Michigan Rogel Cancer Center have found biomarkers of cancer-fighting T-cells in patients with head and neck cancer that hold the promise of identifying who may benefit from immunotherapy and improve those patients' survival.
The immune system produces different types of T-cells, which express unique substances called biomarkers. These biomarkers show researchers which types of T-cells have infiltrated a tumor and are trying to fight it.
"If the body has lots of these cells in the tumor, then they can better fight cancer," says Matthew Spector, M.D., assistant professor of otolaryngology at Michigan Medicine, and an author of the study published in Cancer Immunology, Immunotherapy.
Immune-rich environment
The researchers showed that when the biomarkers CD103 and CD4 moved into a tumor, an "immune-rich" environment was created and a patient's chance of survival increased to 80 percent. Conversely, when CD103 and CD4 levels were low, in an "immune-depleted" environment, the survival rate was approximately 40 percent.
"Often when you have a biomarker, you wonder how many patients will be affected or how predictive it would be. We were surprised CD103 was such a strong predictor of survival in patients with recurrent or persistent head and neck cancer," Spector says.
Normally, oncologists use clinical staging to determine the progression of cancer and the likelihood of a positive outcome. However, in some cases staging may not provide the most accurate information.
"But this is different," says study author Chad Brenner, Ph.D., assistant professor of otolaryngology at Michigan Medicine. "We can take a piece of tumor from a patient and test it in the lab. We know if the patient has a high level of CD103, they are going to do well and we can tell them that information. For patients with lower levels of CD103, we can tell them we're worried about the tumor, and more treatment may be needed to fight this cancer."
Also, the tumor can be made more treatable by giving the patient immunotherapy or by boosting the immune system with vitamin C, antioxidants or zinc. A good healthy diet can also boost the immune system. After three weeks, if there is a positive response, then the patient may be ready for additional surgery or the next treatment, says Spector.
The retrospective analysis conducted at the Rogel Cancer Center involved 183 patients with recurrent or persistent laryngeal squamous cell carcinoma who had surgical removal of the larynx between 1997 and 2014.
Assessing immunotherapy
In a different study, Spector, along with Gregory T. Wolf, M.D., and other researchers, showed the combination of two other infiltrating T-cells -- CD4 and CD8 -- improved survival in patients with recurrent and persistent laryngeal squamous cell carcinoma. In yet another study of patients with lung cancer and serous ovarian cancer, researchers showed that CD103 and CD8 increased survival.
"Our research can help us determine which patients will most likely benefit from immunotherapy," Spector says.
Still, the research needs to be validated in a larger population. "In Ann Arbor, we can do these CD103 counts, but now we have to make sure that other research centers can do them," Spector says.
The technique for determining CD103 levels in tumors isn't difficult, he says. "It's basic stuff, and almost any lab can do it. It will take a few hours for researchers to learn the technique," Spector says.
The next step for Spector and his team is to meet with other clinicians and researchers and write a clinical trial to rigorously study and design new interventions to improve survival for at-risk patients, specifically those with low levels of CD103.