Leslie Eisenbud Quint MD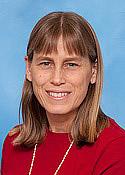 Biography
Dr. Leslie Quint is a member of the Department of Radiology, Chest Division, at the University of Michigan. She graduated from Princeton University with a bachelor's degree in biology and received her medical degree from Cornell University Medical College. Dr. Quint completed her radiology residency and a fellowship in cross-sectional imaging at the University of Michigan and then joined the faculty in 1987. Her clinical and research interests include cross-sectional imaging of thoracic malignancies, including lung and esophageal cancer. Dr. Quint also studies imaging of other thoracic disorders including aortic diseases and emphysema.
Credentials
Medical School or Training
Residency
University of Michigan Health System, Diagnostic Radiology, MI, 1986
Fellowship
BCT & Magnetic Resonance Imaging, University of Michigan Health System, 1987
Professional Organizations
Fellow, American College of Radiology
Research
Thoracic CT, lung cancer, esophageal cancer, aortic disease.