Jeffrey Scott Moyer MD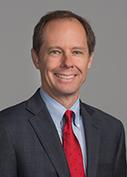 Appointments:
734-936-8051 or 734-432-7634
Biography
Dr. Jeffrey Moyer earned his medical degree with highest honors in 1997 at the University of North Carolina-Chapel Hill. In 2003, he joined the University of Michigan Rogel Cancer Center, where he performs reconstructive surgery for head and neck cancer. His research focuses on immunological therapy of head and neck cancer. Dr. Moyer is Board-certified by the American Board of Otolaryngology and the American Board of Facial Plastic and Reconstructive Surgery in addition to being an active member of the American Academy of Facial Plastic and Reconstructive Surgeons, the American Academy of Otolaryngology-Head and Neck Surgery, the American College of Surgeons, the American Association for Cancer Research and the American Head and Neck Society.
Credentials
Medical School or Training
University of North Carolina School of Medicine, 1997
Residency
University of Michigan Health System, Otolaryngology, MI, 2003
Board Certification
Otolaryngology
Facial Plastic & Recon Surg
Research
Improving reconstructive outcomes after head and neck cancer surgery and the immunological therapy of cancer.