Francis Paul Worden MD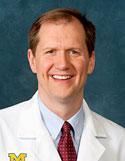 Biography
Dr. Francis Worden received his medical degree from the Indiana University School of Medicine in 1993. Prior to attending medical school, he worked as a registered pharmacist at a large community hospital in Indianapolis. In 1997, Dr. Worden completed a combined residency in internal medicine and pediatrics at the Detroit Medical Center and finished a medical oncology/hematology fellowship at the University of Michigan. In July 2000, Dr. Worden joined the faculty at the University of Michigan Rogel Cancer Center, where he is currently working as a clinical investigator with both the multidisciplinary head and neck oncology team and the multidisciplinary lung cancer team. Dr. Worden's research interests include organ preservation in head and neck cancer and endocrine oncology.
Credentials
Medical School or Training
Indiana University School of Medicine, 1993
Residency
Detroit Medical Center-Wayne State University, Internal Medicine and Pediatrics, MI, 1997
Fellowship
Hematology/Medical Oncology, University of Michigan Health System, 2000
Research
Developing clinical protocols in patients with locally advanced and metastatic head and neck cancer, thyroid cancers, and endocrine malignancies.