Filip Bednar MD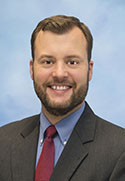 Biography:
Dr. Bednar is an Assistant Professor of Surgery in the Department of Surgery at the University of Michigan.
His undergraduate training was done at Princeton University, where he graduated with a Bachelor of Arts degree in molecular biology in 2000. After that he transitioned to the Lewis Katz School of Medicine of Temple University in Philadelphia. Dr. Bednar spent seven years in the combined MD/PhD program where he earned an MD and PhD in Microbiology and Immunology in the laboratory of Dr. Thomas Rogers. His dissertation thesis focused on how human monocytes respond to the complex external environment present during an infection or inflammatory state. After the completion of his medical training he was accepted to the General Surgery Residency program at the University of Michigan. During his time in Ann Arbor, he also spent two years in a postdoctoral research fellowship in the laboratories of Dr. Diane Simeone and Dr. Marina Pasca di Magliano. During Dr. Bednar's research time, he studied the basic biology of pancreatic cancer, which led to his evolving interest in cancer patient care. He finished his clinical training in the Complex General Surgical Oncology Fellowship program at the University of Pittsburgh and was recruited back to the University of Michigan to become a part of the pancreatic cancer research group that has developed here in the past decade. Dr. Bednar is a board-certified general surgeon and currently undergoing board certification for additional specialization of Complex General Surgical Oncology. He is also BLS/ACLS certified.
Clinical Specialization:
Dr. Bednar is a practicing general and oncologic surgeon at the Ann Arbor VA Medical Center. His practice encompasses the full gamut of general surgery and complex abdominal and soft tissue surgical oncology. During his fellowship training, he also received specific instruction on the daVinci robotic surgery platform and hope to continue to support the already-established efforts in this arena at the Ann Arbor VAMC.
Research:
Dr. Bednar's research interests revolve around pancreatic cancer. As part of his clinical training at the University of Michigan, he spent two years as a postdoctoral research fellow in the Center of Organogenesis and the laboratories of Dr. Diane Simeone and Dr. Marina Pasca di Magliano studying pancreatic cancer using patient-derived xenografts, cell lines, and genetically engineered mouse models of pancreatic cancer. During this time he developed an interest in studying the underlying biology of tumor heterogeneity and chromatin regulation in the early stages of pancreatic cancer and in established tumors. The long term goal of his laboratory is to study and better define these aspects of pancreatic cancer biology, which may yield additional approaches to the treatment of this disease.
Credentials:
Medical School or Training

Temple University School of Medicine, 2007

Residency

University of Michigan Health System, Surgery, MI, 2014

Fellowship

Surgical Oncology, University of Pittsburgh Medical Center, 2016

Board Certification

Surgery
Complex General Surgical Oncology