Swiecicki named medical director for CRSP laboratory
Media contact: Eric Olsen, 734-764-2220 | Patients may contact Cancer AnswerLine, 800-865-1125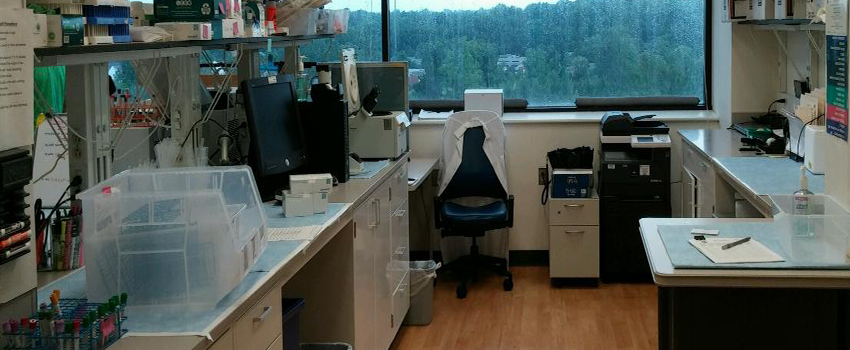 Paul Swiecicki, M.D., has been named medical director for the Clinical Research Specimen Processing (CRSP) laboratory at the U-M Rogel Cancer Center. Swiecicki, along with lab manager Keri Innes, will oversee the lab's expansion into an additional space on the Rogel building's 7th floor to accommodate an increasing workload.
The laboratory is responsible for managing bio-specimens for all clinical oncology trials in progress at Rogel Cancer Center.
"We currently have a small footprint — just 450 square feet or so," says Innes. "And in that space, we're supporting over 300 clinical trials at any given time. We have maximized our existing space, so the additional lab space will allow us to support all of the initiatives we'd like to."
The rapid processing and stabilization of samples is critical so they can be sent to external labs all over the world for analysis. The timing, says Innes, is critical.
"The samples are looking at a moment in time," she explains, "so there is limited stability -- sometimes just 10-15 minutes -- due to sample degradation." This degradation not only affects tissue or blood samples, but also the therapeutic agent. "We're looking at how the drug affects the body, and also how the body affects the drug."
And in a clinical trial setting, samples are often collected multiple times per day to give researchers an ongoing and comprehensive snapshot of the therapy as it unfolds. Which further underscores the need for a quick turnaround.
"In the past," says Swiecicki, "even 5 -10 years ago, a patient simply received a drug in clinical trial. And very often, the patient received increasing doses of drug until they experienced significant side effects, or the drug stopped working. Today, a clinical trial is informed by a much more comprehensive and ongoing evaluation of tissue, blood, and tumor growth analysis, all of which can then be used to direct the patient therapy plan in real time. This has served to fundamentally change the clinical trial landscape, as well as what we're learning about cancer."
Although the CRSP lab has had a small footprint, it's become an increasingly relevant corner of cancer research at Michigan Medicine. And Swiecicki anticipates the expansion will allow the team to help advance wider areas of research and institutional initiatives.
"I think this will help to push us to an even better place," he says. "We've been able to move cancer research forward throughout the world. But we've been stretched in the past. I see an opportunity to focus more on the translational research conducted by our great investigators here at the University of Michigan. So, we're planning to add resources to support the greater U-M community."
"The goal of the expansion is not only meeting current needs, but also the needs of 5-10 years in the future and we're currently meeting with investigators around the U-M campus to see what that looks like, what that will require."
"I'm very excited," says Swiecicki.