Swiecicki named associate medical director for Oncology Clinical Trials Support Unit
Media contact: Eric J. Olsen 734-764-2220 | Patients may contact Cancer AnswerLine™ 800-865-1125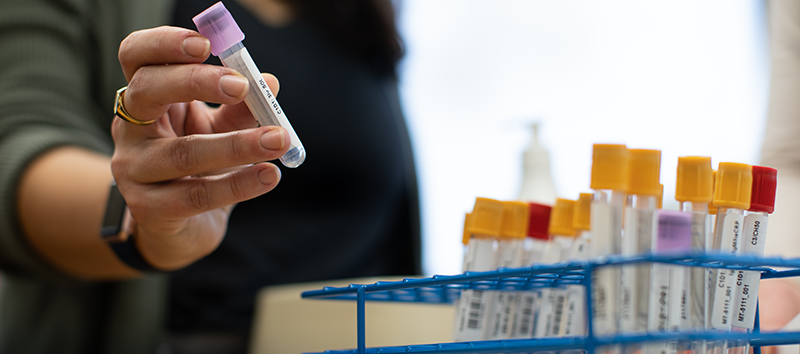 Paul Swiecicki, M.D., has been named the inaugural associate medical director for the Oncology Clinical Trials Support Unit at the Rogel Cancer Center. The appointment was effective Jan. 1.
Organized under the Office of Research at the University of Michigan Medical School, Clinical Trials Support Units (CTSUs) are business units that partner with investigators and their teams to ensure the timely and efficient activation and execution of clinical trials at Michigan Medicine. The O-CTSU serves as the centralized core facility of all cancer-related clinical research trials conducted by investigators throughout Michigan Medicine.
"Dr. Swiecicki is a talented clinical trialist with experience in development and conduct of investigator-initiated, multi-institutional research in head and neck cancer as a principal investigator," said Scott Schuetze, M.D., Ph.D., O-CTSU medical director. "He is also part of the Rogel Emerging Leaders Program. I look forward to partnering with him to address current and future research support needs for multi-institutional trials, clinical research on the hospital inpatient units and extending research opportunities to our partner institutions across the State of Michigan."
The O-CTSU uniquely supports investigators' reporting requirements for NCI's Cancer Center Support Grant and Clinical Trials Reporting Program. Through the O-CTSU, the Rogel Cancer Center provides free services to support U-M's NCI oversight obligations: single-site monitoring of investigator-initiated trials, auditing, informatics and database development, protocol editing, and committee support.
"I am honored by this new appointment," said Swiecicki. "And I look forward to working with investigators to advance clinical research, communication, translational research, and support of groundbreaking trials across the Rogel Cancer Center."