Rogel researchers receive $2M to study pancreatic cancer microenvironment
Media contact: Nicole Fawcett, 734-764-2220 |  Patients may contact Cancer AnswerLine 800-865-1125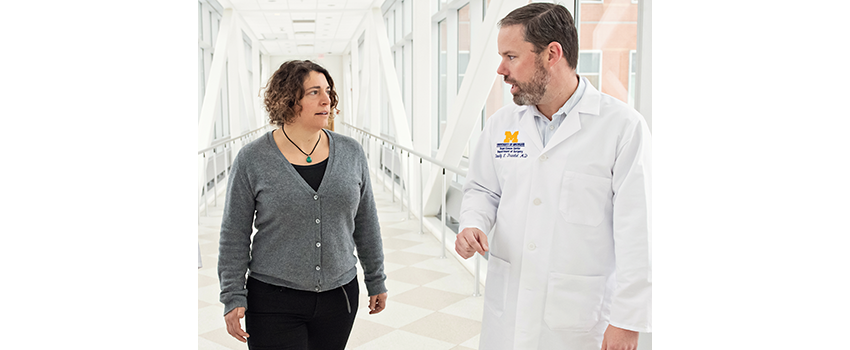 Marina Pasca di Magliano, Ph.D. (left) and Timothy Frankel, M.D.
Credit: Michigan Medicine
ANN ARBOR, Michigan — Researchers at the University of Michigan Rogel Cancer have received a $2 million grant from the National Cancer Institute to understand the role myeloid cells play in how pancreatic cancer develops and progresses.
Myeloid cells exist within the microenvironment of pancreatic cancer and pre-cancerous lesions called pancreatic intraepithelial neoplasia, or PanIN. As cancer develops and grows, these myeloid cells become reprogrammed by the tumor cells to promote cancer spread.
"We have previously shown myeloid cells are required for cancer to develop. In advanced disease, we see myeloid cells inhibit T cells, which means they are blocking immune-based therapies. However, myeloid cells also have the opposite effect: they can promote tissue repair and remodeling. We want to understand the crosstalk that happens between tumor and myeloid cells," said principal investigator Marina Pasca di Magliano, Ph.D., Maude T. Lane Professor of Surgical Immunology at Michigan Medicine.
The researchers will use patient tissue samples and genetically engineered mouse models to map myeloid cell populations and functional status in the healthy pancreas, PanIN and pancreatic cancer.
"We hope to define the function of myeloid cells at different stages of cancer development and then identify ways to reprogram the myeloid cells to prevent or treat pancreatic cancer, testing new combination therapeutic approaches," said co-principal investigator Timothy Frankel, M.D., associate professor of surgery at Michigan Medicine.
Grant number: 1R01CA268426-01A1