Lee receives $1.4M grant from NCI to study the role of low oxygen supply in pancreatic cancer
Media contact: Nicole Fawcett, 734-764-2220 |  Patients may contact Cancer AnswerLine™ 800-865-1125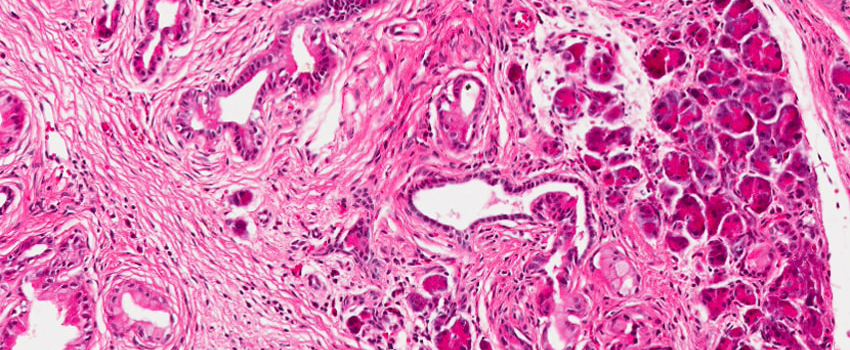 Pancreatic cancer has been one of the more challenging cancers to understand. One reason is that many unusual factors are at play inside and around the cancer cells, including the presence of rich, non-cancer cell elements called stroma. The interactions between cancer cells and the stroma impact how tumors grow and respond to treatment.
Rogel Cancer Center researcher Kyoung Eun Lee, Ph.D., assistant professor of pharmacology at Michigan Medicine, has received a new $1.4 million grant from the National Cancer Institute to study the stroma and in particular how low oxygen conditions, or hypoxia, in pancreatic cancer alters the tumor-stroma interaction – and how to capitalize on that to target potential new treatments.
"Pancreatic cancer remains one of the deadliest and most aggressive cancer types. New treatment strategies are urgently needed," Lee said. "Hypoxia predicts poor clinical outcomes for pancreatic cancer, but we don't fully understand how hypoxia affects this crosstalk between the tumor and the stroma."
Lee was the inaugural recipient of funding from Swim Across America-Motor City Mile, an open-water swim along the Detroit River that raises money for research at the Rogel Cancer Center.
The NCI grant will allow Lee to explore how hypoxia makes the tumor microenvironment resistant to immune therapies. To study this, Lee will use a three-dimensional model that mimics the tumor microenvironment, along with mouse models and human tumors.
"These studies will provide new insights into the role of hypoxia in shaping the tumor stroma in pancreatic cancer, which can be exploited to develop effective stroma-targeting strategies against pancreatic cancer," Lee said.
Funding for this work is from National Cancer Institute grant 1R01CA269025-01A1